Archived News Item
Farewell and welcome!
December 1, 2008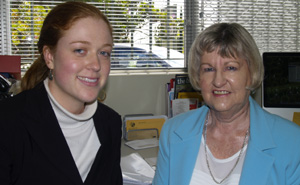 In her five years as Administrative Assistant at Mercy Works, Kay Hotschilt found the experience "life-giving" and "energising". She appreciated working for an organisation whose values resonated with her own, and she thrived on the "global outlook and farsightedness" of her colleagues.
"It made it very interesting to come to work," she says. "I was challenged to think internationally" and "outside my own comfort zone".
For Kay, communicating with fieldworkers overseas by phone, email or when they visited the
Mercy Works office in Sydney, was "stimulating and humbling".
"I couldn't do it", she says. "They are really heroic women. Interacting with them can't help but make you a better person."
Communicating with donors was also a very rewarding part of her role. She was struck by the remarkable generosity of people, especially those who had little finances for their own needs. "It takes you out of yourself", she says.
Kay related to four executive officers in her time at Mercy Works. "She was a stabilising force during those foundational years", says current Executive Officer, Sister Rosie Carroll.
"Kay had a particular understanding and love of Mercy and all that is Mercy. She had a wide interest in the projects and the sisters in the field".
Like Kay, Bridie Rothwell has a strong commitment to mercy and justice. Bridie was appointed as Administrative Assistant in April this year following Kay's retirement in December 2007.
Bridie is an ex-student of Monte Sant' Angelo Mercy College in North Sydney. During her Arts Degree at Macquarie University she worked as an English teacher in a disadvantaged community in Costa Rica. After graduating she volunteered as a teacher and fundraiser at the Hands of Mercy Orphanage in Tanzania, a home for children orphaned by HIV-AIDS.
"Having previously worked in an administrative role, Bridie comes to the agency well equipped with the necessary skills, and a great enthusiasm for our projects," says Rosie.