Archived News Item
Fahim: An Inspirational Face of Refugees and Ayslum Seekers in Australia
September 30, 2019
Sisters of Mercy in Perth have had the privilege of joining with many others in providing support to Fahim Ghulamnabi, a student at Aranmore Catholic College in Perth.
Fahim and his family are refugees, who fled their homeland of Afghanistan after being targeted for practicing their Shia Muslim faith.
"Many Shia Muslims were being killed in Afghanistan. We couldn't celebrate religious practices without being targeted. My father received many death threats at his workplace", Fahim said in a video (linked below).
"If we'd stayed in Afghanistan none of us would be here today".
Fahim, who lives with a disability, said his family fled Afghanistan after his dad wanted to give him and his family a better life, free from danger.
"The medical care I was getting was very bad.
"I don't know how long I could have survived without proper care," he said.
Since arriving in Perth, after having spent time on Christmas Island, Fahim has become a much loved member of the Aranmore College community, including receiving a standing ovation for his performance at a recent concert (see picture below).
As Fahim and his family are on Temporary Protection Visas, government policy means that he is unable to access government funded disability services.
Funds from the Institute's Mercy Action Support Fund, have assisted Fahim getting to and from the College for the several months prior to his Father being able to drive him and his brother to school. The Institute has also happily provided support with books and other incidentals to assist Fahim in his education.  MASF was also going to help get Fahim his motorized wheelchair, however, this was not necessary as it was obtained through the Catholic Education WA. This has given Fahim much more freedom and independence.
Perth Sister, Janina Pascoe said that although Fahim has enriched the lives of so many in the College community, he and his family continue to live with the dire possibility of being deported and sent back to persecution and the threat of death in Afghanistan.
"While Fahim and his family have shown enormous courage and spirit, they face a very uncertain future. Many people are shocked at the treatment they continue to receive in our country, in which they are treated by the government as outcasts.
"It is particularly sad that Fahim is so keen to make a contribution to our community by being a Youth Worker, so that he can continue to inspire other young people".
To become a Youth Worker, Fahim would like to enrol in a TAFE course next year. Again, because of his visa status he is unable to access government funding and has to self-fund these studies.
If you would like to help Fahim realise his dream by helping to pay for his TAFE course, a 'Go Fund Me' page has been established and can be accessed at the following link:
https://www.gofundme.com/f/help-fahim-get-his-bright-future?rcid=r01-156697287464-f18f857bee0e4d75&pc=ot_co_campmgmt_w
Click on the video above to watch a heartwarming and inspirational mini-documentary produced by Kyle Ganapathy, a teacher at Aranmore Catholic College.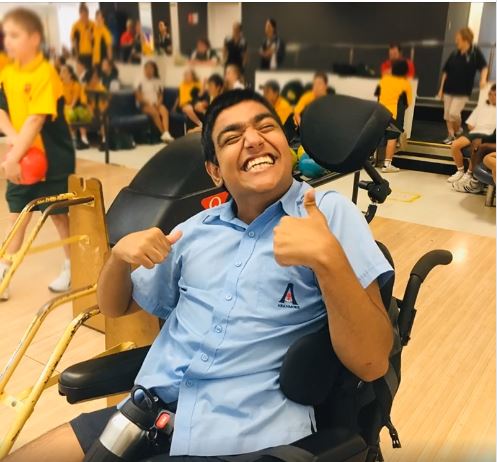 Click here to return to Just Mercy