Archived News Item
Exploring the Story of Mercy
September 19, 2013
Amidst the beauty of the Victorian coastline, staff members from across the many ministries of the Institute of Sisters of Mercy of Australia and Papua New Guinea gathered for the Mercy Ethos program, 'Mercy Story -Then and Now'. This program took place at Star of the Sea, Apollo Bay from August 28-30 and participants experienced Mercy hospitality first hand through the warm greeting and attentiveness of Sr Margaret Kelly on their arrival.
The group included teachers from Damascus College Ballarat, St Joseph's College Mildura, Catholic College Bendigo, staff members from the administration office and Emmaus Hostel, Ballarat and one participant all the way from the Seville Conference Centre Cairns. Their hope was to enrich their experience and knowledge of Mercy through this two day residential program which was facilitated by Bernard Dobson (previous Principal Mt Lilydale Mercy College) and Natalie Acton (Mercy Ethos Educator).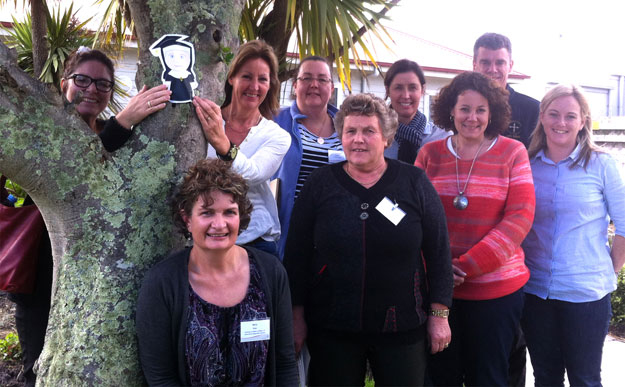 Photo: Mercy Story Group
The program included time to reflect on the life of Catherine McAuley, foundress of the Sisters of Mercy, with participants having the opportunity to learn about Catherine's life, spirituality and approach to leadership using her letters, retreat instructions and words written about Catherine as the basis for their exploration. Participants then investigated their own diverse local stories of the women who came from Ireland to establish congregations in this land, discovering the many extraordinary stories which laid the foundations for the ministries in which they work today.
The two days included input, group discussion and activities with some quiet moments for personal reflection on what it is to live and work in Mercy. Against the backdrop of the glorious natural environment of sea and hills, those present were able to connect with what has drawn them to their work, the challenges and joys that it brings, and that which motivates them to be the face of Mercy today.
On the final day the group was treated to an engaging presentation by Allan Ansell (Head of Religious Education and Chaplain, Sacred Heart College Geelong) who joined them to share the many ways that he brings the Mercy charism alive in his school with students, teachers and the wider community. Inspired by Allan's presentation participants then set to work on considering some specific ways that they could enhance and foster Mercy culture in their own work environments. One of them, who works in the kitchen preparing meals for the Sisters resident in the Emmaus Hostel, developed a recipe (below) which she aims to display in her kitchen.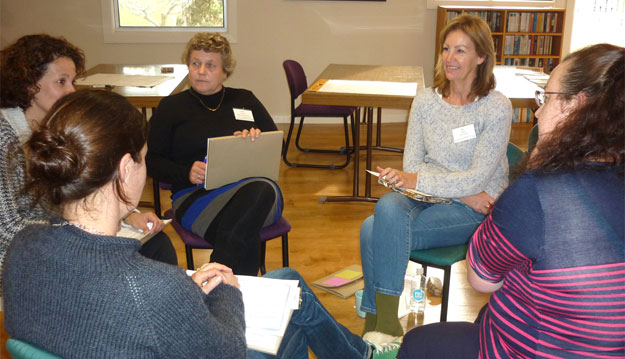 Photo: Time of discussion and sharing
Comments at the conclusion of the time together included:
The Mercy Story program has provided me opportunity for reflection, which has been significant for me in considering why I have been called to Mercy.
The program has provided me a chance to learn more about Catherine McAuley and the beginnings of the Sisters of Mercy. I have been able to reflect on what it means to live a life of Mercy.
It was great to, in the words of Catherine, "Waste time" with others – seeing and discussing what others are doing in their workplaces.
and… Leonie's Recipe:
Catherine McAuley Recipe
1 cup of love
1 cup of mercy
1 cup of selfless raising flour
Teaspoon of charity
Pinch of praise
Tablespoon of humour
Tablespoon of confidence.
Stirred together with strong and lively faith
Makes up one very humble pie
Best served with a very good cup of tea.
Leonie McGuigan
Prepared by Natalie Acton, Mercy Ethos Educator
Mercy Story – Then and Now is a two day, cross ministry residential program facilitated by the Institute Ethos Office. Participants are drawn from a variety of roles and positions in the education, welfare, administration, health and aged care sectors. Mercy Story offers hospitality, time and space to learn more about the Mercy tradition providing participants the opportunity to reflect on the role they are able to play in realising Catherine's dream in our own time. For enquires about program availability please contact the Ethos Office on (03) 9499 1577.