Archived News Item
EXPLORING THE DIVERSITY AND SCOPE OF ISMAPNG
April 14, 2016
The Forum brought together over 60 leaders from more than 50 organisations including Board Chairs and CEOs from the Institute's sponsored and co-sponsored ministries, along with the Institute Leadership Team, Community Leaders, Executive Leaders and key Institute personnel. An event such as this highlights the diversity and scope of ISMAPNG, in that, the Mercy organisations represented vary in size from one person ministries to the Mercy Health ministry which has over 6,000 staff covering programs throughout Australia.
Facilitated by Sr Eveline Crotty rsm, the forum explored topics of relevance including 'Governance for Mercy Ministry', 'Bringing our reality to the Year of Mercy', 'Overview of the New Structure within the Institute' and 'Professional Standards'.
A key focus for Day One was a presentation and workshop by Sr Elaine Wainwright (Executive Leader Ministry and Governance) who opened up the Mercy International Reflection Process. Participants were asked to use the four stage process to reflect on how right relationships could be restored between all parts of the earth community. In small groups, those attending identified and considered an issue reflective of the theme of 'cry of the earth/cry of the poor'. Some of the issues identified included the application of solar panels on all Institute buildings, reduction in the use of paper cups and other food packaging in schools and aged care facilities and the growing problem of outsourcing to third world countries by some Australian companies who do not pay a fair wage.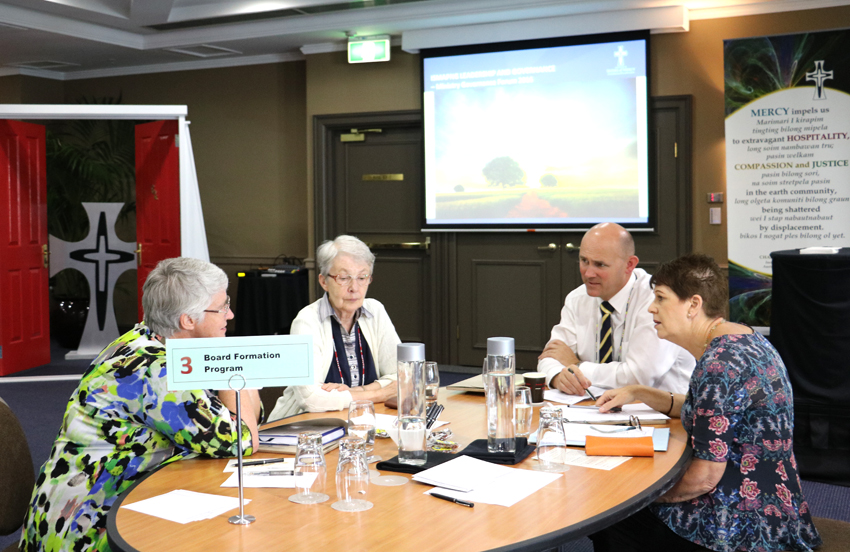 Further exploration of these matters was achieved by looking at issues through the lens of our faith tradition via one of two stories from Matthew's gospel (the feeding of the Five Thousand and the healing of the Canaanite Woman's Daughter). Following the workshop, ministry representatives were invited to utilise the process in their board meetings and workplaces.
On Day Two, the agenda included a presentation by the Institute Leadership Team on 'Designated Leadership within the Institute', a presentation by Margery Jackman (Professional Standards Officer) and three ministries showcasing best practice. The afternoon concluded with a series of concurrent discussions, around topics such as:
• Governance Charter and Governance Manual
• Board formation
• Engagement of Sisters and Ministries
• Advocacy and Partnerships
• Cross Ministry Collaboration
• Staff formation for mission
• Recruitment, Appointment and Induction of New Directors and role of key board positions.
A key focus of the workshops was how to maintain and build a sense of greater collaboration across all parts of the Institute and its ministries.

At the conclusion of a very worthwhile gathering thanks were extended to all who organised this event (Jonathan Campton, Carmel Crawford, Sr Denise Fox rsm and Sr Annette Schneider rsm) and to Sr Eveline Crotty rsm for her role in facilitating the process of the two days.
Messages to: Jonathan Campton
Photo: L-R Srs. Annette Schneider and Gabriella Gretz, Matthew Byrne (Damascus College Ballarat) & Carmel Crawford (Mercy Ethos Office)