Archived News Item
Exercises for the Three Days of Retreat – From the Institute Archives and Heritage Collection
June 29, 2018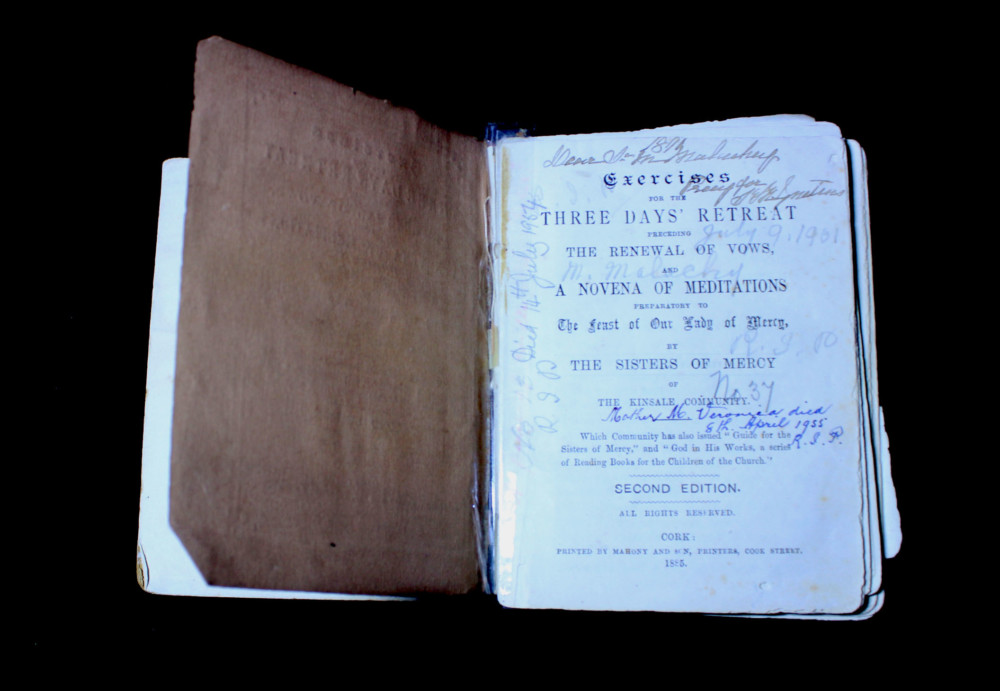 The ISMAPNG Goulburn Archive collection holds a book titled 'Exercises for the Three Days Retreat Preceding the Renewal of Vows and a Novena of Meditations Preparatory to the Feast of Our Lady of Mercy' by the Sisters of Mercy of the Kinsale Community. This second edition of the book was published in 1885.
We believe (from the inscription trail on this book and handwritten notes left about this item) this copy of Three Days Retreat Book was given by the Albury Foundress Mother M. Ignatius Murphy to Mother M. Malachy Walsh in 1894 who then gave it to Sr Therese Edwards in 1949.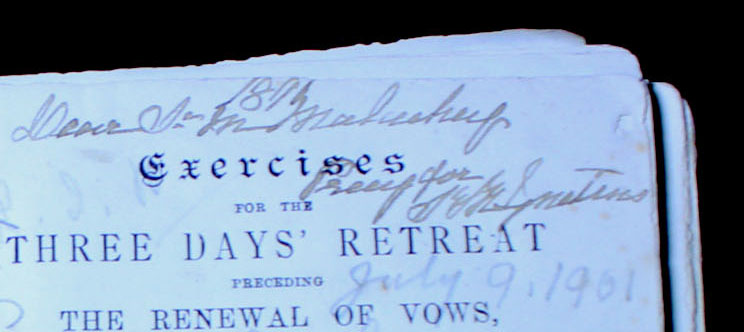 What makes this book highly significant are the series of handwritten inscriptions on its front title page. At the top of the title page are the words 'Dear Sr M Malachy Pray for S M Ignatius 189[4?]'. This refers to Mother M. Ignatius Murphy who set off for Albury from Goulburn on 17 July 1868 accompanied by five sisters. The trip was difficult, with the sisters travelling in two wagons and experiencing heavy rain and freezing winter conditions along the way before arriving in Albury on July 22, 1868. Before Mother Ignatius' death in 1901, foundations were made from Albury to Corowa and Deniliquin.
Sr M. Malachy (Johanna Walsh) entered the Sisters of Mercy in 1888. She was a successful teacher, the Superior of the Albury Convent for nine years and Superior of several other Convents including Corowa, Tocumwal and Henty.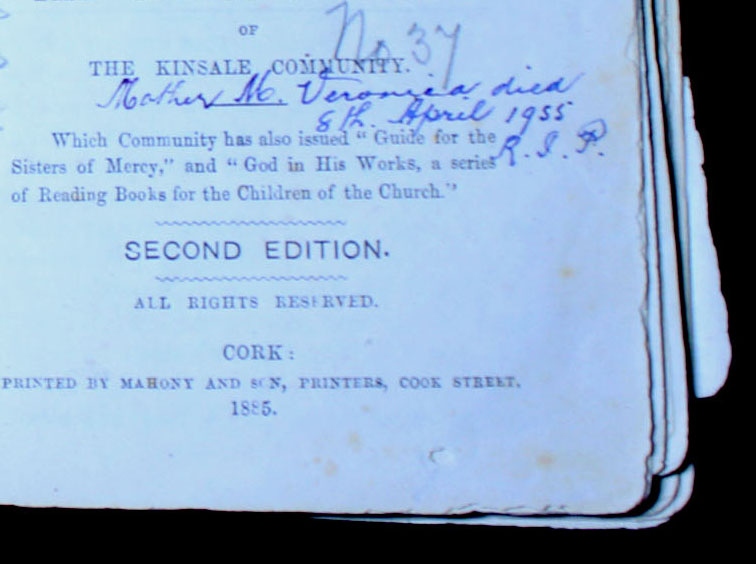 Another inscription on the title page of this book reads 'RIP July 9, 1901', the date of death of Mother Ignatius Murphy.
A third inscription reads 'No 13 Died 14th July 1954 RIP'. This refers to the date of death of Sr. M. Agnes Ryan who died on 14 July 1954. Josephine Ryan, born at sea (and baptized in Melbourne), entered the Sisters of Mercy Albury in 1880.
A fourth inscription reads 'Mother M Veronica died 8th April 1955, R.I.P'. Ellen Coll trained to become a teacher at Loreto Convent Ballarat, later joining the staff at St. Ambrose's Parish School in Brunswick. In 1892 she decided to enter the Sisters of Mercy in Albury. During her religious life she held the office of Superior for many years in the Albury region, along with the position of School Principal of St. Joseph's College and other schools. At one point it is noted that she held the role of Superior and Principal at the same time. A newspaper clipping in the ISMAPNG Archives states 'the Convent buildings comprised only a small unit when Mother M. Veronica became Superior. She was instrumental in acquiring property in providing many additions to the Convent, the Boarding School and the present St. Joseph's College. Her keen foresight, practical judgement, great determination and courage were responsible for undertaking building projects which would provide educational facilities for future generations'.
Some of the handwritten inscriptions and their connections are difficult to determine. For example there is the note RIP No 37.  From our archival records we have not been able to determine to whom this number refers in the former Goulburn Congregation.
We believe that in 1949 this book was then handed down to Sr. M. Therese Edwards. Edith Edwards entered Albury Convent in January 1919. After her training as an infants and music teacher (mainly violin) Sr. M. Therese was posted to Griffith, and then Tocumwal before returning to Albury in 1937. Besides another brief posting to Corowa as a Superior in the late 1960s and early 1970s she continued to teach in the Albury region. She taught her last music class in 1984 and was also nominated for the Women 88 Awards, a national award scheme designed to promote the variety, range and high quality of women's contributions to Australian society. She died in Albury in 1993.
While it is difficult to make all the links between the Sisters' names on the title page of this book, this item is an interesting example of how a precious item was handed from one sister to another in a congregation. From the names identified above, it's possible that the book was handed down to subsequent Superiors of the Albury Convent and that Number 37 could well represent another past Superior.
The sesquicentenary celebrations of the Albury foundation will be held in Albury on the weekend of the 21st and 22nd July 2018.
Messages to: ISMAPNG Archives