Welcome to ISMAPNG's Calendar of Upcoming Events, where you can find a diverse range of events from ISMAPNG, and other reputable providers, which nurture our one mercy mission.
If you would like to contribute an event to this calendar please CLICK HERE.
For questions or troubleshooting please email eventscalendar@ismapng.org.au

NSW Mercy Associates & Sisters of Mercy Retreat: 'Deep Living in Mercy'
May 24, 2019

-

May 27, 2019

$345.00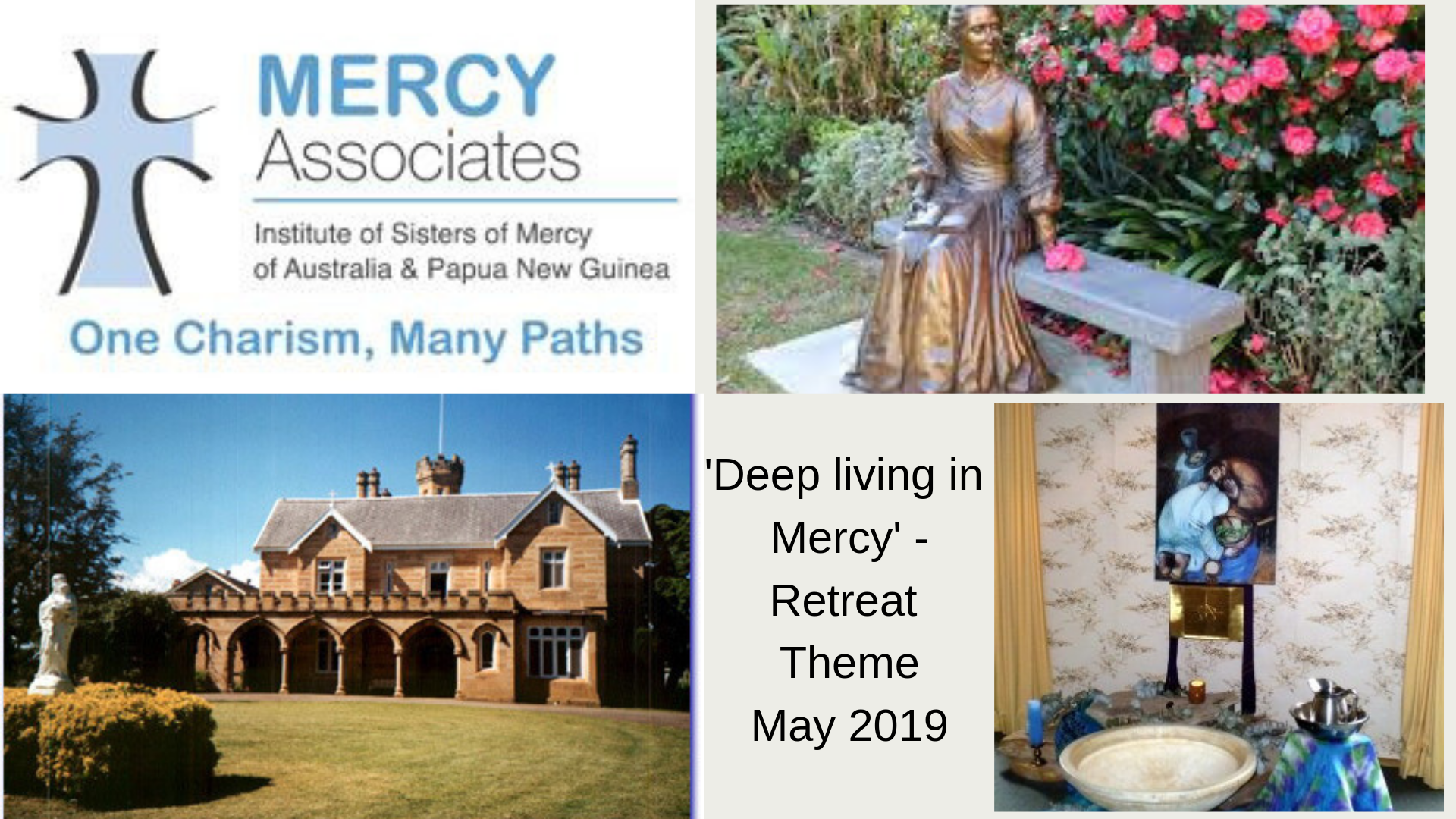 This inaugural state-wide gathering and retreat will be a wonderful opportunity to come together from across NSW.
There will be a number of prayer/reflection gatherings on our theme: DEEP LIVING IN MERCY, each day, and formal sessions for input, sharing, and discussion.
The focus will be on our theme and Catherine McAuley's life and spirituality. There'll be opportunities for each Mercy Associates' group's representatives to share their group's news and ministries. It will be a rich time of sharing and getting to know one another from near and afar.
We're looking forward to the Sisters of Mercy, who have or are currently mentoring a Mercy Associates group to be present with us, sharing their views, pearls of wisdom, news and participating in our sessions together. As we journey through our retreat time, being and living as one Mercy family, the rich tapestry of 'Deep Living in Mercy' will be woven, as a colourful work of art, on paper with much variety of shapes, sizes, textures and with God's Loving Mercy intertwined.
On the Sunday, Mass will be celebrated, and we'll focus more on how we see our NSW Mercy Associates groups moving into the future, and look at some practical matters that may or may not be of concern to us. Our large group work of art will come together more and be shaped into our final tapestry.
Over the two sessions on Monday morning we'll be bringing all of our sharing, discussions to a close and summarize what has come out of our time together; complete a short evaluation and some initial planning for our next state-wide gathering/retreat (which will most likely take place in 2021).
After lunch on Monday, our last prayer/reflection time will be a celebration of our retreat and of our coming together as one Mercy family, with our colourful retreat tapestry as our centre piece.
There will be plenty of FREE time in the retreat program for you to relax, enjoy the venue's beautiful gardens and wide open spaces, and for private prayer/reflection.
Retreat dates: Friday 24th May to Monday 27th May 2019
Venue: St. Mary's Towers retreat centre, Douglas Park. NSW 2569.
For those interested, take a look at their Website: http://www.towersretreat.org.au
Retreat fee is $345.00 per person for three nights including:-
all meals, snacks, as well as dinner on Friday night and lunch on Monday; use of all the retreat facilities, gardens, and with very comfortable accommodation.
Please contact Christine Convery (event organizer) for full bank details for your fee payment.
RSVP date: Friday 3rd May 2019 and full retreat fee payment is due no later than Friday 10th May 2019.
Please arrive by 5 pm on Friday 24th May. Check-in from 3 to 4 pm on Friday. Dinner at 6 pm.
Departure is approximately 2.30 pm Monday 27th May 2019.
Contact Christine Convery if you have any questions, to express your interest, if in need of more information, or would like a copy of the retreat program.
Email: mercyassociatesnsw@ismapng.org.au
Phone: 0414 627 226