Archived News Item
Event for your diary: "The Wild and the Sacred"
September 3, 2008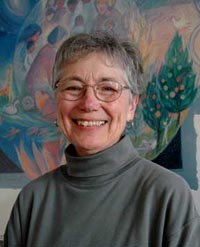 "The Wild and the Sacred" is the title of a reflective gathering to be held at Mulgoa (NSW) from December 14 to 20 this year. The main presenter will be Mary Southard CSJ, a painter and sculptor, who is perhaps best known for her creation of the Earth calendar. Mary is also an experienced retreat giver and educator in earth literacy and cosmology.
As outlined in the brochure for this gathering, participants "will explore the implications of making the shift from one story to another; on our hearts, on our minds, and on our relationships with God and the person of Jesus, self, other people, institutions and the natural world.
"Opportunities will be provided for creative processes, reflection and dialogue. Input will be both verbal and visual."
Download the brochure for the event here.
To find out more about Mary's work visit her website.
For further information or clarification, email: valdadickinsonma@hotmail.com or phone: 0411 786 549.
This event is supported by the Sisters of Mercy, Parramatta and the Oceania Province of the Christian Brothers.