Archived News Item
Eulogy for Monica Marks rsm, 3/3/11
March 9, 2011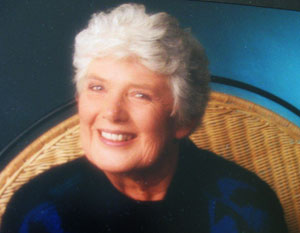 One of the ways to remember Monica, on this her dancing day, is as woman of mercy, gifted to us her sisters locally and nationally and to this local church, as a truly remarkable leader. Monica served on our provincial council and as provincial leader from the end of the 60s and during all of the 1970s. It was a time when the Church as a whole, and religious congregations in a particular way, were called to radical change.
Providentially, on the brink of Vatican II (1959-62), Monica, who was a graduate of the University of Adelaide in Arts and Education had been sent to study in Europe. In Leuven, Chevetogne and Paris she had the opportunity to be formed and enlightened by some of the profound creative developments in liturgy, theology and catechesis. These sources of scholarship were soon to erupt into the teachings of the Council — that great event of the Holy Spirit in our times.
This opportunity nourished and extended Monica's deep faith and acute intelligence and imagination. It was as if she was given an insight into the heart of what the church, as God's holy people, could become. And when she returned she carried this message of hope to us, and to the local church in multifaceted ways.
Yesterday, in reflecting on the infectious delight and depth that Monica communicated in her teaching God's holy mysteries, Mary Densley recalled her showing a slide of an image of the Resurrection which was accompanied by a tag in French which read — En attendant la Résurrection bienheureuse. This could be interpreted as the process of waiting for, or attending to the blessedness or happiness of the Resurrection. But as Mary observed, Monica's own being communicated a richer meaning of this transformative event that she was teaching about. It was as if her way of looking at the world was a constant act of attending to the mystery of resurrected life Many of you will recall that her face in greeting someone was often lit by a radiance that expressed a profound joy. It was as if she could glimpse in each one of us something of God's redeeming grace at work.
It seems fitting today to remember with thanksgiving Monica's capacity to communicate something of the immense joy and hope of a creation transformed by Jesus crucified and risen. Perhaps it was because of this that she was able to appreciate and value so acutely the uniqueness of each person and the sacredness of each one's life. As a leader, she called us to expect this grace, to wait for it in each other and in what God could and was doing within us and between us.
Monica has been described as a visionary leader with a capacity to see the big picture and to think and feel and imagine outside of the limits of present possibilities. She exercised this leadership not only among us but also in the wider forum of the Sisters of Mercy nationally and internationally. The birth of the Institute of the Sisters of Mercy of Australia happened on her watch and was greatly assisted by her passion and vision.
Monica had the capacity to ask: Why? and Why not? in ways that energized and opened up new possibilities. She was willing to trust and could be decisive in taking risks. This latter quality sometimes made her good friend Archbishop James Gleeson very nervous! However, he later confessed that Monica was usually right and was, in fact, well ahead of the game. He often expressed publicly, and with great appreciation, her contribution as a leader in this archdiocese.
Working closely with her for eight years I was aware that she had great expectations of herself and of all of us, expectations that I certainly could not always meet. At such times a dark cloud would move across her face! Some of you may well have also witnessed this.
However, Monica's desire to enable and encourage each person's potential remained with her all her life. She was always very welcoming and genuinely interested in our new members and created by her care and interest, networks of connection across our local community and beyond. In a way she never stopped being a leader.
I believe that a significant element of our identity as a group of Sisters of Mercy that we were able to name and to celebrate at our last chapter as an Adelaide congregation, and which we can offer to the new Institute, is a legacy from Monica.
In her last years we have witnessed her slowly being stripped of everything — her memory, her understanding her will. On my last visit with her the weather was beautiful and I took the opportunity to wheel her in her chair out and around under the trees. The wind caught her hair as she raised her face to gaze towards the light refracted from the leaves. I don't think she knew who I was, and perhaps even who she was, but still her upraised face communicated a radiant glimpse of Resurrection joy!
We give thanks today for a loving woman, a leader, whose very being invited us into the immensity of God's loving-kindness.
Pat Fox rsm