Archived News Item
Eucharist for Catherine's canonisation cause
November 11, 2008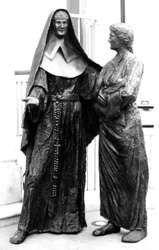 Sisters of Mercy of the Goulburn Congregation gathered in Young (NSW) on November 7 to participate in a Eucharist for Catherine McAuley's canonisation cause.
Sister Rosarii O'Connor RSM, who prepared and organised the liturgy with the help of Helen Kearins RSM, welcomed all to this celebration of the life of Catherine and a reminder of her legacy to us in our mission of Mercy.
A highlight was the reading of the poem by Sister Mary Wickham RSM (Melbourne), the theme of which sheds light on the meaning of the sculpture – The Circle of Mercy – standing at the door of the Centre in Baggot Street, Dublin.
This Eucharistic celebration gave us, once again, an opportunity to enliven our hope that Catherine's story will become accessible to all, and that it will in turn encourage all to respond in Mercy.
From: Sister Shirley Garland RSM (Local Communications Facilitator, Goulburn)