Archived News Item
Epic Australian adventure has Mercy twist
June 17, 2010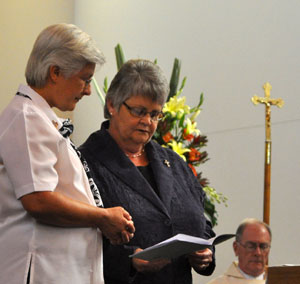 A book which tells of the unfolding of a truly audacious Australian dream has been launched to mark the 80th anniversary of a rare breed – an Australia-founded congregation for religious women.
An Audacious Aussie Dream, by Penelope Edman, is the celebration of a God-inspired human endeavour that began as a daring desire and has borne fruit for 80 years through the efforts of a group of women today known as the Family Care Sisters but commonly called the Grey Sisters.
Not only are there striking similarities between the foundress of the Family Care Sisters, Maude O'Connell, and foundress of the Sisters of Mercy, Catherine McAuley, but the two Melbourne congregations are forging a new relationship that will see the vision of Maude O'Connell carried into the future, well beyond the likely end of the Family Care Sisters.
After working closely with Mercy Health for several years, the Family Care Sisters, in 2006, gifted their O'Connell Family Centre in Canterbury (Victoria), to the health service and the land to the Sisters of Mercy, Melbourne Congregation. Since 2008, the sisters have been journeying together, congregationally. While each respects the others tradition, and one will not become the other, they are forging mutual bonds of support and accompaniment.
Penelope Edman said that when she began to gather the stories for what has become An Audacious Aussie Dream, 12 months ago, she thought it would be a very feminine book.
"What I hadn't foreseen was the pain and the poverty that would be a constant theme throughout the years," she said, "and the sisters' special capacity for entering into relationships and forming friendships. The latter are gifts that have allowed them to work fearlessly for the sake of others and the Gospel and not for self-promotion."
Daylesford, July 12, 1930, is regarded as the foundation of the congregation.
"History records that it was a 'wild' Saturday night, with rain falling 'in torrents'. As the journey to Daylesford that night was not an easy one, neither has been the journey of the congregation," Penelope said. "Yet, Daylesford was an unforgettable start to what has become a memorable chapter of Australian history that has blurred church and civil divides.
"It is in honour of the grit, determination and resilience – physically, mentally and spiritually – of the women known invariably as the Grey Sisters – and the families who welcomed them into their homes and the lives – that this book has been written."
According to Penelope, Maude O'Connell's dream was conceived in the crucible of desperate human need brought on by the Great Depression.
"In the 1920s, she saw a pastoral gap in the services being provided by the Catholic Church in post World War I Melbourne.
"Instead of expecting someone else to do something about it, she was determined to make a difference. And she was confident others would join her in this vision for the family based on the welfare of mothers and children.
"As need knows no religious boundaries, so the sisters have ministered to all beginning at a time when bigotry caused deep separations, even within families," Penelope said.
"The women forged paths in social welfare that today are commonplace. Best practice has always underpinned their professional and spiritual endeavours."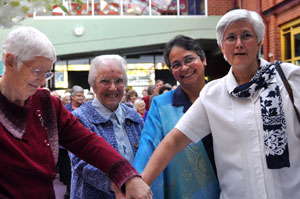 That the number of professed sisters had always been small belies the reach, influence and impact of their work that has seen rest homes in Daylesford, Canterbury, Bendigo and Croydon; a welfare centre at Prahran; a mothercraft nurses' training school in Surrey Hills; a mother and child care centre, also with training facilities, in Canterbury; an emergency service for families in high-rise flats in Flemington and holiday units for families at Rye.
Today, there are only four sisters in the congregation – Michele Toussaint FCS who is the Congregational Leader, Monica Patterson FCS, Anne O'Connor FCS and Jill Harding FCS. Yet their spirit remains undiminished and their ministry continues through their facilities in Croydon (rest home for women), Canterbury (mother house, congregational facilities, hospitality and accommodation) and Rye (holiday flats).
An Audacious Aussie Dream was launched on May 15. It has been published by St Paul's Publications, Sydney, and is available from selected religious book stores and from the sisters at both Canterbury (03) 9882 6868 and Croydon (03) 9723 6797.