Archived News Item
Entry of two PNG women into candidacy stage
March 29, 2010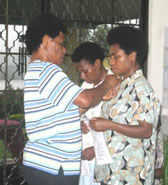 News from Papua New Guinea
Last week, two young women, Merilyn and Doreen from the East Sepik Province, braved the perils and uncertainties of travel in PNG to come to the Highlands in Goroka to commence their two-year novitiate stage of training as a Sister of Mercy. They were accompanied by Margaret Roni RSM, with whom they had lived over the past 12 months as enquirers in Kunjingini.
For both young women this was their first trip outside their home province, and a flight from Wewak to Madang by plane was a new and exciting experience for them. Not so the long bus trip from Madang to Goroka. Unable to get a seat on a bus on the day they arrived in Madang they were forced to stay the night there. The next day they were able to obtain a seat and commence the six- to eight-hour journey to Goroka. A major obstacle on the way was a broken bridge caused by a large prime mover which had fallen through the bridge some days before, and was still blocking the way. Passengers from Madang had to cross the river on foot and then transfer to another bus on the other side for the next leg of the journey to Goroka.
Weary, and travel stained they eventually arrived at Coolock House of Formation that evening where they were greeted by PNG Regional Leader, Theresia Tina RSM, and other sisters from the Highlands area who had gathered here for special meetings on Friday and Saturday.
A time of quiet reflection at the Kafermo Retreat Centre in North Goroka on Friday afternoon and Saturday, gave them some 'space' to adjust to their new situation as well as to the coolness of the air in this part of PNG, a vast difference from their home places on the steamy Kunai grass plains of the Sepik River area.
Their reception as Sisters of Mercy candidates took place during a special Palm Sunday Eucharist at Coolock House on Saturday evening with chaplain, Father Neill OFM, as the celebrant. For the next two years they will live here deepening their knowledge and understanding of the Mercy way of life and further discerning whether this is what God's call is for them.
Enquirers
Three other young women from the Highlands have also made a new beginning by taking their first formal step as enquirers along the journey of becoming a Sister of Mercy. Up until now, they have been living in their own home areas of Wabag and Mt Hagen but in regular contact with the sisters living in Mt Hagen. They too had a long and arduous journey to make by road from the mountainous area of Mt Hagen to Madang on the coast and then by boat in a 15-hour journey to Wewak. From Wewak they will travel by road with Margaret Roni RSM to Kunjingini where they will 'test the waters' of the Mercy lifestyle and of living in community.

Farewell rituals for Helen O'Brien RSM
An evening prayer ritual to celebrate the life and death of Helen O'Brien RSM, who died recently in Adelaide, was held in Coolock House for the Highlands sisters. The sisters in the coastal area of Wewak had already held their celebration prior to this. Helen was the first leader of a united PNG Congregation. The sisters here have fond memories and many stories of her 25 years in PNG.
Storytelling was an important part of the rituals in both places. The over-riding themes that threaded through all of the stories that were related was that of her wisdom and the love and acceptance that she gave each of the sisters with whom she interacted. The sisters expressed their gratitude and love for the legacy she has given them and for steering them through the new beginnings of an autonomous PNG regional Mercy Congregation.
Thanks
Theresia Tina RSM sends her special thanks to those sisters across the world who sent her congratulations on her recent her recent graduation as a Bachelor of Special Education. She has been overwhelmed by the acknowledgements that she received. Through these messages she has personally experienced the 'globalness' of Mercy.

Easter blessings
The Sisters of Mercy of Papua New Guinea send their greetings and prayer to all of our sisters in Australia and across the world. We often remember you all in our prayer here. At this time, we pray that the graces of Easter – the daily gift of dyings and risings – will continue in all of our lives, secure in the knowledge that in this journey, Jesus walks with us always.
From: Pat Wood RSM (Rockhampton) who is currently based in PNG