Archived News Item
ENGAGING THE COMMUNITY TO HELP YOUNG CHILDREN
April 14, 2016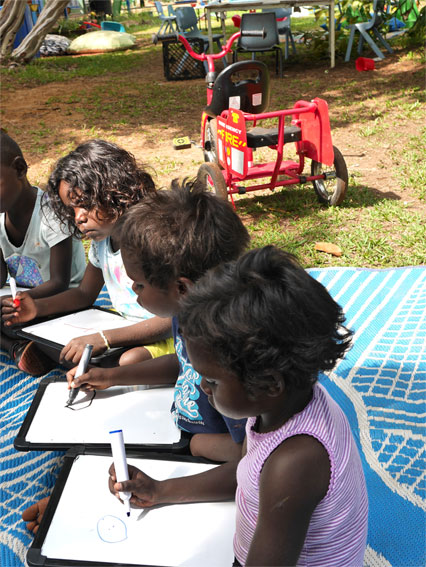 Across Australia, indigenous communities face many challenges that the broader community does not. There are many statistics that prove this, but potentially one of the most upsetting ones is that by the time Aboriginal children reach Year 1 at school 60% of them are already significantly behind non-Aboriginal children. Mercy Works supports a project that aims to redress this for children in one isolated community.
Bathurst Island is one of the Tiwi Islands in the Northern Territory 80 kms north of Darwin. There are many issues affecting the lives of the Tiwi children. Drug and alcohol abuse, gambling and domestic violence are experienced by many families.
At the Pwakayini Preschool that is part of the Murrupurtiyanuwu Catholic Primary School, at Wurrumiyanga, the only primary school on the island Mercy Works is supporting a Family Engagement Program.
The program seeks to build relationships of mutual trust and respect within the families of children as they enter the earliest year at a "school" facility. There are currently 31 children and the parents are young. Many of the children are first-born with younger siblings who also attend with the mothers of the preschooler. The family members are encouraged to attend the preschool and engage with their children in the play process and observe the care, management and educative practices. A nutrition program takes place once a week to give parents and care givers a chance to develop some skills around preparing and sharing nutritious meals. A family room has been prepared with child friendly and family seating for families and structured classes. Reading is promoted as a family activity. Many children have no experience of books before coming to school and need exposure to reading as an enjoyable family pastime. A community garden and safe play area project is in the planning stage and the preschool is working with the parents in redesigning the space in culturally sensitive ways.
The whole community benefits. The mothers and fathers learn child management practices and develop a more secure attachment with their children. They also learn cooking and food handling skills as well as functional literacy. The supported parent group offers friendship, ownership and all of the positives of emotional wellbeing.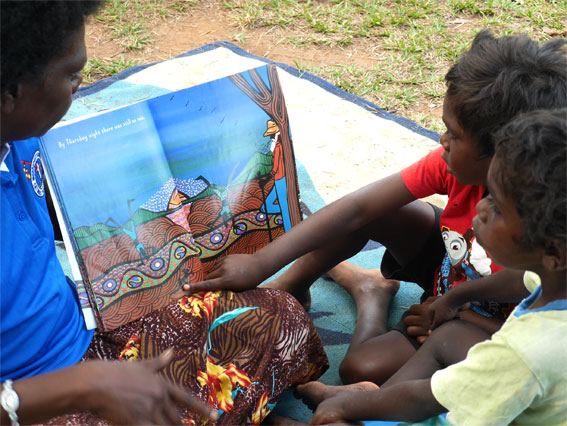 The long-term benefits of such engagement cannot be underestimated. As one of the leading Aboriginal educators, Dr Chris Sarra said: 'We know for sure from examples right across the country, where school leaders go out of their way to engage with parents and children and build positive relationships, attendance improves.'
Messages to: MERCY WORKS
To find out more about Mercy Works programs in PNG, Timor-Leste and Australia visit www.mercyworks.org.au
Or Like us on Facebook: www.facebook.com/mercyworksltd