Archived News Item
End-of-year edition of LISTEN available
December 16, 2010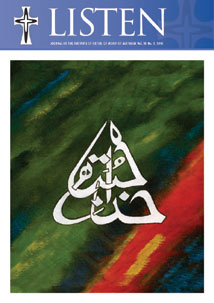 The end-of-year edition of LISTEN, the journal of the Institute of Sisters of Mercy of Australia, is out now. "In a liberal sense of the term, this issue of LISTEN is about 'culture'," says Caroline Ryan RSM in her editorial. "That is to say, one way or another, each of the contributions is concerned with elements that shape a culture's identity and give it coherence."
Contributors are Sisters of Mercy: Elizabeth Dowling, Anne O'Farrell, Margaret Scroope, Gaye Lennon, Nerida Tinkler, Patricia Fox, Caroline Ryan and Margaret Shakeshaft, as well as Bishop Anthony Fisher OP, Anne Frawley-Mangan, Stephanie Thomas, Chantelle Ogilvie and Father Gerald Arbuckle SM.
Cover artwork by Jawed Munawar, an artist and Christian from Pakistan.
EDITORIAL
In a liberal sense of the term, this issue of LISTEN is about 'culture'. That is to say, one way or another, each of the contributions is concerned with elements that shape a culture's identity and give it coherence. In the wider anthropology these elements include beliefs, values and attitudes which influence the life of a culture – how it organises itself in relation to such factors as gender, class, religion and ethnicity; the relationships and alliances within it, and the way power, legitimate and otherwise, is exercised; the customs and rituals through which it tells its deep stories and creates its traditions; various art forms which reflect its character; who it includes and excludes; the sorts of initiatives it might take to protect and perpetuate itself; and so on.
Beginning here with the Institute of Sisters of Mercy of Australia, which is a small culture in itself, recently there have been some noteworthy events which could be considered from the perspective of culture.
First there was the Sixth Institute Chapter in September. Preaching at the Eucharist to celebrate its opening, Bishop Anthony Fisher OP reminded us that God's mercy, and how we engage with it, is at the heart of the chapter's purpose as it does serious 'cultural' work of the Institute – self-examination, discernment, decision-making and planning for action – in order to respond authentically to our world ever in need of God's mercy, and to strengthen the integrity of religious life.
For their brief life chapters often develop their own culture. This seems to have been so for the nine days of the Institute Chapter as delegates Margaret Scroope RSM, Anne O'Farrell RSM, Elizabeth Dowling RSM and Gaye Lennon RSM reflect for LISTEN: "The collective Mercy narrative was obvious from the moment we drove up the driveway… Mercies could be seen greeting one another in that all too familiar and beloved way we do"; "Sisters brought stones from all parts of Australia and Papua New Guinea where Mercies are… [which] provided a tangible focus for conversations about who we were and who we are, shared experiences, sense of belonging"; "Culture and story are inextricably intertwined. There is a sense in which our stories reveal our history as well as our pre-history. Opening up to a new range of stories, without losing my own story, was such a broadening experience"; "Voices of sisters were heard formally and informally as we struggled to find words, grasp the underlying values and principles, and rise to the challenges of our world, and of each other".
A memorable chapter experience was the honouring of 25 years of Australian Mercy presence in Pakistan. Thanks to the 38 sisters who have ministered there over the years this has been a most significant period in the life of the Institute. Certainly it has caused many sisters and colleagues 'at home' to be critically aware of Pakistan as a country whose culture is so different from Australia's, and to understand something of its people's needs for the life chances we easily assume here – education, health care, freedom from terror, and so on. In her welcome address at the Eucharist for the Feast of Our Lady of Mercy, which was the sacred context for our celebration, Institute President, Nerida Tinkler RSM, spoke of key developments in the Pakistan mission, and remembered by name each of the women who gave it meaning. It is a record of initiative, faith, generous dedication, and courage frequently tested. It is published here along with the words of commendation of our immediate past President, Patricia Fox RSM, who proposed the luncheon toast to all the Pakistan sisters, 20 of whom were present for this singular occasion.
One of the longest serving sisters in Pakistan is Margaret Madden RSM, currently Director of the Notre Dame Institute of Education in Karachi. As Margaret was unable to attend the celebrations in Sydney, we spoke on the telephone about her learnings in relation to Pakistan and her hopes for its people. As indicated in "Pakistan Perspectives", her experience has been a robust, formative meeting of cultures at several levels.
A second chapter event was the biennial Catherine McAuley Symposium. With this year's theme "Mercy Animating the Soul of Australia", the keynote speaker was Anne Frawley-Mangan whose stimulating address explored Catherine's life-time promotion of 'Mercy' as a true cultural influence on society, the Church, and religious life.
Unfortunately LISTEN'S version of Anne's paper omits its interactive visual component but hopefully readers will appreciate its inspiration nonetheless.
The Symposium was further enriched by a display of art works on its theme by students from Mercy colleges around the country, some of which is depicted in these pages. Rachel Carroll, who judged the artworks, is an accomplished artist herself with a compelling enthusiasm for the power of art to educate about issues crucial for our time, such as the fragility of our environment. Stephanie Thomas interviewed Rachel for LISTEN about her 'vocation' as an artist and the deep Mercy values she imbibed during her schooling which continue to animate her.
The institutional Church too defines and expresses itself through the arts. Think, for example, of its centuries of music, art and architecture. And of course, there are other cultural elements, arguably more influential, such as the role and impact of individuals, particularly those who have pushed out the boundaries of a clerical, andro-centric ecclesiology and helped the Church in its slow growth towards the sort of inclusivity modelled by Jesus. "A Woman of the Church", by Chantelle Ogilvie, a respondent to the lecture initiated by the Australian Catholic University to honour the memory of Rosemary Goldie, herself a pivotal figure in twentieth century Church culture, testifies to this. "Rosemary… dedicated her life to opening up the terrain for lay people like myself… she pointed out the places where the narrow path of lay life diverged, into multitudes of options and opportunities for serving God, for being oneself. She did this… for the whole Church."
An historic moment for Australia, locating it briefly at the heart of the universal Church, was the canonisation of Mary MacKillop. In her reflection "A Faith and Cultural Pilgrimage", Margaret Shakeshaft RSM shares her experience of this unique and sacred event, and the opportunity it gave her to live into and celebrate some of the enduring riches which are both cause and effect of our dynamic faith tradition.
Finally, Gerald Arbuckle SM considers aspects of a pressing challenge the Church seems yet to meet in our postmodern world, of engaging in genuine dialogue with other cultures and sub-cultures. Prompted by this piece, Stephanie Thomas probed Gerald's insights asking him to focus on religious life and the readiness and ability of congregations to "dialogue across their own congregational cultural barriers".
So, now we are at the end of another year. Certainly 2010 has been momentous for our Institute with the decision of 15 of its members to bring the richness of their own congregational cultures together in order to create one new, vibrant culture through which the best constituents of Mercy life and mission can flourish anew. Indeed a privilege of God's providential love! And also a brave hope and a demanding challenge.
As we prepare to remember that most radical and enduring 'act of inculturation' – God becoming truly one with fragile humanity, may we all receive the graces of trust, enthusiasm, humility, and constant gratitude.
Blessings to all who have contributed to this LISTEN and to all our readers. Thank you, each one.
Caroline Ryan RSM / EDITOR
Contributors
"Longing for God's Mercy" – Bishop Anthony Fisher OP
"The Sixth Institute Chapter: A Cultural Experience" – Elizabeth Dowling RSM, Anne O'Farrell RSM, Margaret Scroope RSM, Gaye Lennon RSM
"Mercy Mission in Pakistan: 25 Years" – Nerida Tinkler RSM
"A Toast to the Sisters who have Served in Pakistan" – Patricia Fox RSM
"Pakistan Perspectives" – Caroline Ryan RSM
"Mercy Animating the Soul of Australia" – Anne Frawley-Mangan
"The Animating Spirit of Mercy" – Stephanie Thomas
"A Woman of the Church" – Chantelle Ogilvie
"A Faith and Cultural Pilgrimage: The Canonisation of Mary of the Cross MacKillop" – Margaret Shakeshaft RSM
"Church Not Serious About Cultures" – Gerald Arbuckle SM
"Are Religious Congregations Serious About Cultures?" – Stephanie Thomas
News about LISTEN
In light of the fact that the Institute is soon to be dissolved, the Institute Plenary Council has decided that there will be one more edition of LISTEN.
This final bumper edition will be published in July 2011. Its theme will be broadly about religious life.
Contributions are invited for consideration by April 29, 2011.
Please send material to:
The Editor LISTEN
1 Thomas Street
Lewisham NSW2049
Phone: (02) 9564 1911
Email: caroline.ryan@mercy.org.au
As far as possible, writers are encouraged to use the Institute's style guide, which can be obtained from Kathy Fuller at the National Centre. Email: kathy.fuller@mercy.org.au