Archived News Item
ENCOUNTER WITH DIGNITY
October 19, 2015
"There is a deeper hunger, the hunger for a happiness that only God can satisfy, the hunger for dignity." (Pope Francis in The Church of Mercy, 2014, pg. 125)
The memory of some experiences will stay with us for the rest of our lives. Such was the experience for me when visiting Bihute Jail in Goroka PNG, while on visitation recently. Our PNG Sisters are part of a small team from Mercy Works who faithfully visit both the women's and men's prison every week. This ministry began in 2003. They took a long time to build trust with the staff and the prisoners. The prison is part of a compound on the edge of the town of Goroka, surrounded by contrasting views – harsh wire fences and multiple padlocked gates, and the spectacular green mountains of the Highlands. We met first with the Commander of the prison who spoke so highly of the presence of the Sisters each week. He told us he believed they bring 'two sides of the one coin' – a positive spirituality and the practical training in life skills and self-esteem.
When we walked into the women's prison about 30 women, many who seemed so young sat in rows at tables. They stood up to welcome us and sang a haunting, faith-filled song of welcome in Tok Pisan. Maryanne Kolkia RSM and Theresia Boyek RSM invited the women to share with us what Mercy Works has meant to them. A strong voice spoke up from the back of the room. It was the female Prison Warden. She spoke with passion and gratitude. With great energy she told her story of how the "Mercy Works" training had changed her life. While she sat with the women as they explored anger management skills she too learnt so much. As a result her life at home with her husband and children had changed. Her ways of relating to the women also changed. She had grown in self-knowledge and a belief in her own self-worth. Other women too shared powerful stories. Some spoke of the friendships that had developed with each other and the Sisters. Others felt worthwhile for the first time in their lives. They told us of the different skills they were learning, especially sewing the 'Meri blouses' (smocks) that they can sell in the markets. They were keen to tell us that they needed more sewing machines, and electric ones would be the best! Their faces radiated warmth as they shared their stories and listened respectfully to each other.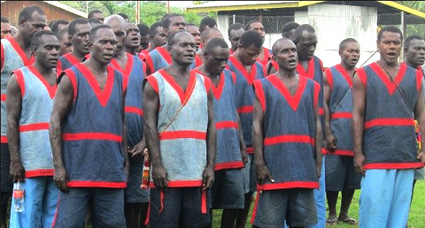 Walking into the men's prison nearby was a different experience for me. Initially I felt overwhelmed by the 60 or so men who sat in silence at long dining tables. Another 30 men watched silently from outside through wire mesh. Again they were invited to share stories with us. One by one they spoke of their new found dignity as they learnt many new life skills. They too sang a song of faith in the midst of an aching grief and loneliness. The words pierced my heart.
"Take him and lock him, man who causes trouble. He has nothing to do. Let him be in prison for many years. They forget about him. Someone cares for us. Jesus the only one, He still remembers me when I am Without my friends. Someone cares for us, Jesus the only one, He still remembers me when I am without my friends. No one stays close to me. Father, mother and loved ones too. Stay far away From them from prison for many years they forget me."
Before we left they proudly presented us with a gift made from macramé. As we left they stood up. On the way out I tentatively put out my hand to shake hands with each man I passed. As I did so, each one responded with great warmth and respect.
I left Bihute Jail knowing I had been on 'holy ground'. I felt very moved and proud. I had witnessed a parable of mercy. I encountered dignity as we were welcomed by the Commander and the wardens as 'friends' of the Sisters, not strangers. I encountered dignity in the deep, respectful listening as each person shared their raw story. I encountered dignity in the midst of what could have been such as futile and hopeless place.
The challenging words of Pope Francis had come to life:
"When we think about going far away, to an extreme outskirt, we may be a bit afraid, but in fact God is already there. Jesus is waiting for us in the hearts of our brothers and sisters, in their wounded bodies, in their hardships …" (Pope Francis in The Church of Mercy, 2014, pg. 19)
Messages to: Sally Bradley rsm