Archived News Item
Empowering Indigenous women in remote communities
December 7, 2007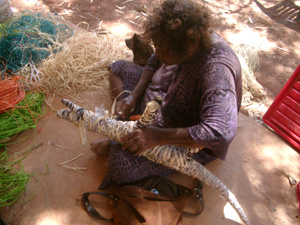 In 2006-2007, Mercy Works Inc. was proud to support the work of Tjanpi Aboriginal Baskets, an innovative arts employment programme of the Ngaanyatjarra Pitjanjatjara Yankunytjatjara (NPY) Women's Council.
The NPY Women's Council is a resource, advocacy and support organisation for Aboriginal (Anangu) women living in the remote desert communities of Western Australia, South Australia and the Northern Territory.
Tjanpi (pronounced 'J-um-Py', meaning grass) began as a series of basket weaving workshops in 1995 by the Women's Council in the Ngaanyatjarra Lands of WA. Building on Anangu traditions using fibre to create objects for ceremonial, medicinal and social purposes, women shared their new-found skills with neighbouring Pitjantjatjara, Pintubi, Yankunytjatjara and Luritja communities, and basket weaving spread.
Today there are over 250 Anangu women making baskets and sculptures out of grass. Tjanpi continues to support these women through artistic and professional development opportunities and through marketing and selling their work to a wide audience.
In this last year, funds from Mercy Works Inc. enabled Tjanpi to conduct a number of intensive workshop programmes throughout the NPY Lands. These workshops serve a dual purpose: they encourage innovative and well crafted fibre work but also foster mentoring and leadership skills within the weaving community.
Photo: Elaine Lane making a papa (dog) at a workshop in Amata, South Australia, September 2006.
Credit: © Tjanpi Desert Weavers, NPYWC.
About Mercy Works Inc.
Mercy Works Inc. supports the local and overseas relief and development activities that are part of the vision and mission of the Institute of Sisters of Mercy of Australia.
The programmes engage in partnerships with communities to promote justice, self reliance and to support displaced people and communities who are denied access to basic resources such as education, health care and social welfare.
Would you like to partner with Mercy Works Inc. to work towards justice for Australia's Indigenous peoples? Find out more.