Archived News Item
Empowering Fohorem's young women
July 6, 2008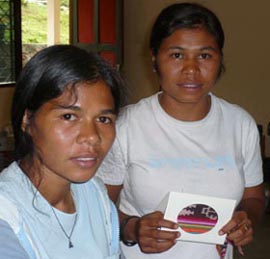 In the remote and mountainous area of Fohorem in Timor Leste's south-west, near the West Timor border, young women have fewer opportunities to access education, thus limiting their ability to gain employment. Find out how Mercy Works Inc. is making a difference.
Martha, aged 24, and Leopoldina, aged 22 (pictured right), are forging a path that will soon be followed by other young women in Fohorem. Both recently attended a ten-week course in Baucau and have returned to share their skills with peers from surrounding villages through the newly formed women's group Feto Fitun Fohorem.
In remote areas like Fohorem, young women have fewer opportunities to access education, thus limiting their ability to gain employment. Most help their families as subsistence farmers and wait to be married.
"They have little choice but to repeat the cycle of hard work in the gardens with no opportunity to make money to prepare a life for their children," explains Sister of Mercy, Helen Nolen, who has been working in Fohorem since 2005.
Funding from Mercy Works has enabled the renovation of a building which will be used by Feto Fitun Fohorem.
According to Helen, the renovation of this space, along with a newly constructed kindergarten and English room (projects also supported by Mercy Works), has become the focus of activities and training programmes for women.
"It has provided a place for women to reach out to other women, sharing sewing and craft skills as well as providing a venue for other activities," she explains.
Feto Fitun Fohorem recently completed a four-day programme of practical and social activities for young women from isolated communities in the district.
The programme included craft sessions and training in the preparation of traditional medicines and foods to assist young children's nutrition.
About Mercy Works Inc.
Mercy Works Inc. supports the local and overseas relief and development activities that are part of the vision and mission of the Institute of Sisters of Mercy of Australia.
The programmes engage in partnerships with communities to promote justice, self reliance and to support displaced people and communities who are denied access to basic resources such as education, health care and social welfare.
Would you like to partner with Mercy Works Inc. to empower young women in Fohorem like Martha, Leopoldina and Albertina? Find out more.