Archived News Item
Educating for Sustainability
May 22, 2014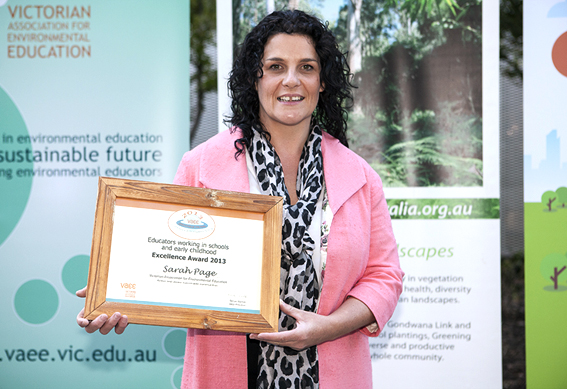 Environmental Education teacher Sarah Page from St Francis Xavier Primary School, Ballarat East received The Victorian Association for Environmental Education (VAEE) Educator of the Year Awards in the "Award for Excellence in the category of Educators and Teachers" working in schools and early childhood centres.The VAEE Educator of the Year Awards winners make learning about the environment fun and their legacy is a generation who are challenging the way that their schools and local Councils use electricity and water and look after their local flora and fauna.
Presented by Professor Kate Auty, the Victorian Commissioner for Environmental Sustainability last week at the Greening Australia Toolbox, the VAEE Environmental and Sustainability Educator of the Year awards recognise those in environmental education who are leading the way in best practice. Sarah Houseman, Executive Officer of VAEE said that Sarah Page's approach to education for sustainability is to engage and inspire others. "Sarah's students now make suggestions that are implemented by the school staff and wider community, including designing and maintaining different garden areas where they put into practice what they learn in the classroom. She is acknowledged for effectively demonstrating whole school cultural change, integrating sustainability into the curriculum and nurturing student leadership at St Francis Xavier Primary School". Students St Francis Xavier Primary School have designed and maintained different garden areas where the put into practice what they learn in the classroom. This includes a Butterfly Garden, a Friendship Garden, a Lizard Garden and a Frog Bog.

VAEE is an independent and membership-based professional organisation connecting teachers, academics, local government sustainability officers and community environmental providers who are changing the way Victorians think about their relationship to the rest of nature.While higher profile experts such as zoo and parks staff and eco-education centres such as CERES and Port Phillip EcoCentre receive growing recognition for their work there are a myriad of smaller environmental educators whose often unseen contributions are having a significant impact.
To celebrate VAEE's 30 years in 2014 and to shine a light on the diversity of the sector, VAEE added three new Awards for Excellence in three different categories, which include Sarah's award. "All Victorians will benefit from these inspiring award winners such as Sarah as they are teaching our future leaders to understand and value water, biodiversity and waste systems," said Ms Houseman.
Paul Bissenella – Principal -St Francis Xavier Primary School, Ballarat East
http://www.sfxballarat.catholic.edu.au
Messages to: Paul Bissinella