Archived News Item
Drought of all Droughts
September 30, 2019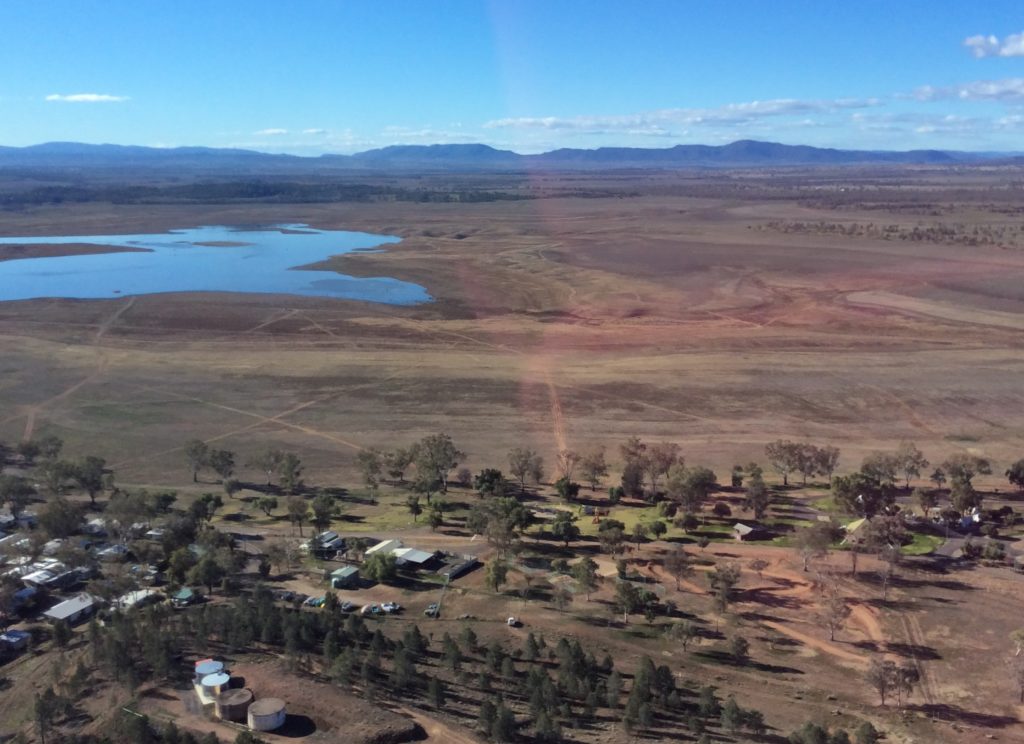 Drought of all droughts —  many voices echo this
This is the worst I have ever experienced — Farmer in his 90's

As you look at these photos  taken from a helicopter in early July 2019, you can get a 'picture' of no water, the land without any vegetation and the ever clear blue sky with no sign of rain. Two months later the scene is no better, add to this the recent high velocity winds and the dust storms across the land, towns and villages and many farmers losing the topsoil carried many kilometres off their property.
As we now are facing water shortage not only from the catchment area, namely Keepit Dam near Gunnedah, we see most dams on farms are empty and water trucks are delivering to many people on farms and in smaller towns and villages. One village has just been put on very strict water restrictions, 100 litres per person per day. Creative water-saving ideas are becoming the news on the radio!!! This is worth all of us thinking about ways and means of saving water.
Bush fires are currently ravaging the New England area, Tenterfield and Armidale areas and one does not know from where the water is being sourced. This is an ever-worrying fact for the areas of New England, the North-West Slopes and Plains and Western NSW.
One sees many, many fully loaded B-Double trucks carting hay to our area, the generosity of our Aussies from Western Australia, South Australia, Victoria, and Tasmania. When passing these Trucks a wave and a toot is one's Thank You!!!!
All people are suffering, the children at school are suffering, the towns and businesses are suffering and we, in rural areas are endeavouring to support one another in many small ways. Taking time to talk with one another, hand on monetary donations received from our city and coastal sisters and brothers, thus supporting our local towns, and people are very grateful that others care about them. The Aussie Spirit is alive and we thank many of our Mercy sisters and brothers for supporting us in rural areas.
The following two poems will paint a picture from two young boys who live on a farm in the Gunnedah area and attend St. Mary's College – a College in the Mercy Tradition.
Poems from twin brothers, Year 7, 2018, published with their permission.
Last Goodbye
A small wheat stalk,
in the bare parched field,
the poor little stubble,
he has no shield.
With all his mates gone,
dirt all around.
the Sun and the frost,
smashed him hard to the ground.
As the days and nights pass,
no rain to be seen,
the weak little stubble,
grew old and lean.
As his days come near,
to his life's end.
He was stiff as a pole,
he could not bend.
Before he gave his final breath,
he wished he'd live a happy death.
He shrivelled up and closed one eye,
he spoke one word and that was 'goodbye'.
                       Thomas Donaldson, Year 7 – 2018
The Wait
When will this ever year drought come to an end?
We sit and wait…. We sit and wait.
No day is different from the last,
This certainly is the worst,
from any in the past.
Dust flies and stock dies,
So does the thought of hope.
As all farmers are reaching out,
Struggling to cope.
Paddocks are bare,
So are the sheds.
Dams, creeks, silos the lot.
Green grass rare.
so please, every farmer.
We Pray, we have faith.
We fight on …. Together!
 Lewis Donaldson, Year 7 – 2018
Comments to: Christine Belling RSM