Archived News Item
DOING AND BEING ENVIRONMENTAL CRUSADERS – Plastic Bags Project
March 9, 2016
We at St Aloysius College in Adelaide are very proud of our Greenhouse Group, which has sprung up in the last 6 months as a result of some Year 9 students learning about the effect of plastics on the world around them. I have been personally inspired by these young women of vision and I think Catherine McAuley would be very proud of their passion and commitment to creating change.
At the end of last year the students sent me a letter regarding this issue and I would like to share it with you.
Dear Ms McEvoy,
Since the beginning of this year, our history/geography class of 9VC have been heavily influenced by our teacher, Mrs Schubert informing and educating us about the disastrous effects that plastic is having on our environment. Most people were quite shocked at the sheer amount of plastic that is annually wasted, causing heavy pollution in the seas, on the terrestrial landscape and resulting in the deaths of millions of animals. Although the world we walk on may seem sustainable at the present moment, seas are likely to transform into lifeless rocks and forests into deserted plains if we do not make a change to the way we live.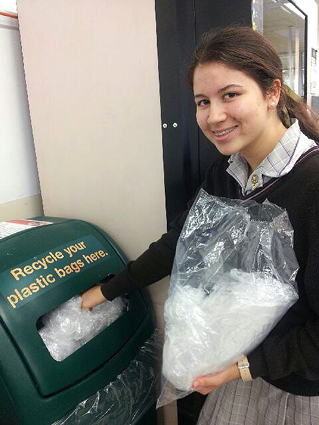 As students of 9VC with a strong passion for the conservation of the environment, we have spent countless hours exploring different concepts and methods in order to improve our school yard as well as contributing to the environment globally. Our decision was develop a program in which plastic newspaper wrapping was collected, tallied and recycled each week. This may appear to have a miniscule impact on the environment, but every little bit counts as we soon found out through the surprising results.
Over approximately two and a half terms, an astounding 30 tennis courts worth of plastic newspaper wrapping has been recycled by 9VC (see latest newsletter). This result has led to recognise how many other schools and organisations throughout the world that would dispose of such an amount of plastic on a daily basis. As well as learning the environmental effects of plastic, we have also learnt the material's history and its overall influence on society. A vast majority of plastic is disposed of and not recycled, resulting in billions of tonnes of pure waste. If plastic has existed for just over 100 years but takes an estimated 500-1000 years to decompose, how do we understand the full effects of it on the environment? It is time to take a stance. As young, independent an educated women we plan to take decisive action one small step at a time to contribute to a greater overall wellbeing of the Earth.
Being ambitious Year nines, the three years that lie ahead of us are filled with many opportunities. Ones which we choose to pursue are to continue in the recent recycling efforts and address other problematic environmental issues. We aspire to continue recycling the newspaper wrappings as we gradually introduce new environmental improvement concepts within the SAC community, positively influencing younger generations. Some of our ideas include: creating a more eco-friendly canteen, recycling newspapers, creating artwork or using recyclable materials or demonstrating them to the primary students/art department for use, raise further awareness of the issue of plastic's effect on the environment and for every classroom to recycle as many materials as possible.
To undertake all these tasks and ensure that they have a lasting effect on SAC's passionate young women, we have devised a plan to make a 'Greenhouse'. The purpose of this space is to meet as a group and plan initiatives; encourage further participation and display goals and achievements accomplished; undertake projects to display interactive activities informing all students, especially those in the primary school and to inform all students and staff about how their recycling and respect for the environment can lead to a sustainable, healthy planet. The 'Greenhouse' would be available for use by all students, teachers and groups such as Green JAM. With our success, this could promote SAC as an innovative school, eager to help the environment.
In searching for an adequate space, that would provide us the opportunity to advance in our goals, we would like to ask you if the room C10 could be converted into an area for our use. This small room is currently being used for storage of paintings and small furniture items. In addition to improving the wellbeing of the environment, if the room were to be converted into an eco-friendly, environmentally friendly space, the 'Greenhouse' would allow students of all ages to interact with one another, encouraging them to use their empowering mercy values and take action.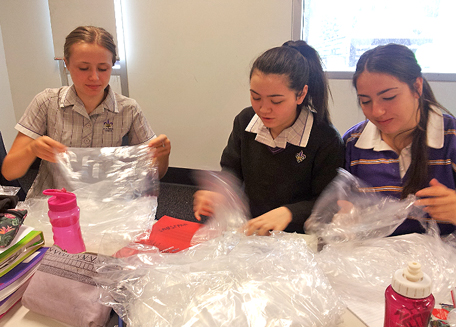 All we request is to be able to use a small space within the school to be shared with other groups (such as Green Jam), while you observe the positive changes we make within the school grounds and environment. Many more ideas on helping the environment fill our growing minds. The permanent establishment of the 'Greenhouse' would provide a platform to share them. Women of mercy strive to be compassionate and caring for one another and we can do this through a sustainable environment achieved by the simplest of initiatives. As Catherine McAuley once stated: 'There are no failures, only opportunities.'
Thank you for your consideration and time. We hope that you will look into this proposal and realise its ultimate potential.
Yours sincerely,
Class 9VC

As a result of their letter, we have created a space in the school where they can regularly meet to work on their environmental campaigns. Their impact on the College in such a short time has been amazing. They are supported and encouraged by some equally amazing teachers. I leave the last words to them:
This year the project for recycling plastic bags will continue in the school with a dedicated group of Year 10 students carrying on the work of collecting plastic bags that cover 'The Advertiser' newspaper and taking them to Coles to recycle them. These students are dedicated to making a real difference in our use of plastic both here and at home. So stay tuned for how you can become involved and make a difference to the world. We only have one Earth to keep clean and beautiful for ourselves and nature.

Messages to: Ms Paddy McEvoy Principal
Web: www.sac.sa.edu.au