Doco reports on fate of deported asylum seekers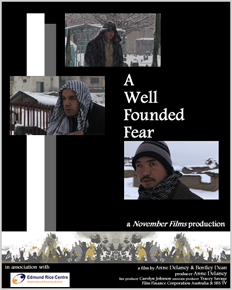 A Well-Founded Fear, the moving documentary film about the Edmund Rice Centre's research work following up on the fate of asylum seekers who are deported from Australia, will screen nationally on SBS Television at 8:30pm on November 19. Read the responses of Dr Carmen Lawrence and Fr Frank Brennan about this film.
The film shows part of the search for the asylum seekers who Australia rejected, and shows footage shot in Afghanistan, Syria, Turkey, Iran, and Canada.
Further information, including responses, can be found at The Edmund Rice Centre.
Responses about the truths unveiled in A Well Founded Fear, include the following:
The Australian government says it is not responsible for the safety of rejected asylum seekers when they are returned home. Some, rejected after being processed under the Howard government's Pacific Solution, have been returned to places like Afghanistan or been sent to places like Syria. They have faced grave threats, even death. In A Well Founded Fear, individual Australian citizens have taken up the responsibility, seeking out those returned to danger. These ambassadors of hope meet the human face of abandonment and provide us with credible information to assess harsh policy and to take action so that we might never again place in harm's way those with a legitimate claim on our compassion. Fr Frank Brennan SJ, Author of Tampering With Asylum
A Well Founded Fear confronts us with the knowledge that the effects of the Tampa and the Pacific Solution are still blighting the lives of the people who sought asylum on our shores. Cutting through the complex tangles of bureaucratic artifice which cast them out, the film compassionately exposes the real life and death consequences of these decisions for so many people whose sin was to ask for help. Dr Carmen Lawrence, former Federal MP and Minister, Professorial Fellow, University of Western Australia.
To read other responses follow this link.
You might also like to read "Afghans sent home to die" by the Sydney Morning Herald's Diplomatic Editor, Cynthia Banham (October 27, 2008).
SIEVX Memorial October 19, 2008
Some of you may remember the sinking of the SIEV X (Suspected Illegal-Entry Vessel No 10) on October 19 in 2001 which claimed the lives of 353 people who were seeking asylum in Australia. This number included 146 children, 142 women and 65 men. Some were hoping to join their husbands and fathers already in Australia. Among the 44 survivors plucked from the sea by Indonesian fishers 20 hours later was the woman who is the central character in the film Hope.
On October 19, in the rural South Australian town of Whyalla, the local Interfaith group along with the local RAR group (Rural Australians for Refugees) held their seventh annual memorial service to remember those who lost their lives and those who still grieve.
The service was held on the foreshore in Whyalla in blustery conditions. Following prayers and readings from interfaith groups including Buddhist, Hindu, Jewish, Islamic and Christian, the group of almost 50 cast rose petals into the sea at 3:53 pm
Perhaps other communities held similar memorials. It would be good to hear about them.
From: Specific Issues Committee, Asylum Seekers and Refugees (Sisters Sally Bradley, Claudette Cusack and Geraldine Mugavin). The Committee warmly invites your response to the article or the issue.
Email: asylum.refugees@mercy.org.au

Contact: Carmel Heagerty RSM, Institute Justice Co-ordinator
Email: Institute.Justice@mercy.org.au