Archived News Item
DISCOVERING OUR MERCY HERITAGE
May 24, 2016
It was a poignant moment for me as I arrived at 'The Academy' in Nicholson Street, Fitzroy. The Academy of Mary Immaculate is a Roman Catholic girls' secondary school, situated in Fitzroy, Victoria, Australia. It was founded by the Sisters of Mercy in 1857 and is the place of the first Mercy Convent in Melbourne. It is here that the first Mercy Sister to arrive in Australia, Ursula Frayne, is buried. I was with a group of Grade 6 students and staff from Saint Francis Xavier Primary School Ballarat East. On our visit we crossed paths with Mercy Associates from Ballarat who were also on pilgrimage to this sacred Mercy place.

As St Francis Xavier School is a school in the Mercy tradition, I suggested a new component for the annual 'urban' camp undertaken by the Grade 6 students. Given that 2016 marks the 170th year anniversary of the Sisters of Mercy arriving in Australia and the fact that Ursula Frayne and her companions, Anne Xavier Dillon and Mary Joseph Sherlock came from Perth and subsequently settled in Melbourne, it seemed appropriate that whilst the grade was in Melbourne they visit this place…in my mind a place of pilgrimage.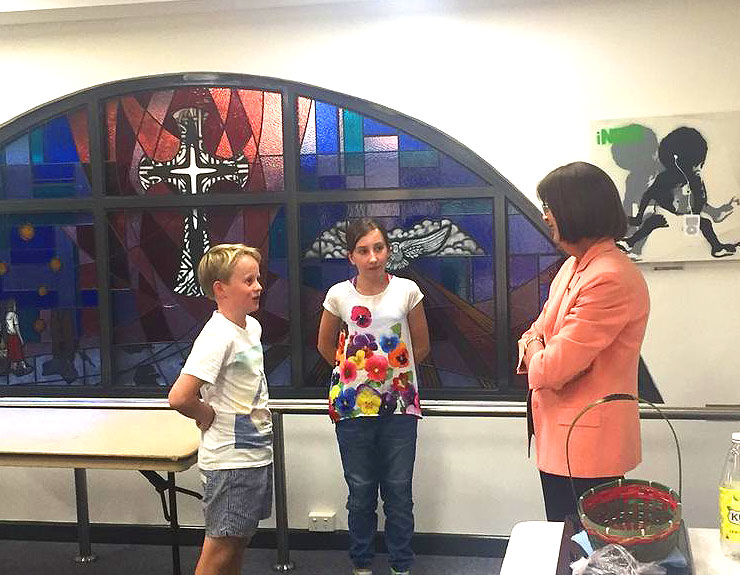 Sister Mary Moloney welcomed us warmly. The children are familiar with both the story of Catherine McAuley and Ursula Frayne and her companions and they entered enthusiastically into the question time with Sister Mary and had their knowledge extended by Mary's input. The chapel, belonging to a 'time long' ago, was a source of fascination for the children – the pews down the middle, the Sisters' stalls down the sides. After time in the chapel we went to the three stained-glass windows in an area of the school to see the visual of 'Mercy' – the ship, the Sisters; the Sisters in ministry – 'the walking nuns'; and into the future.

My next encounter with the children and their teachers was a week later; I saw them, in their groups, searching the web to refresh their memories in preparing posters about Ursula and her companions. As I reflected on this event, I saw new images of Mercy into the future.
'The adage 'never too old [young] to learn' is a great comfort to me.'
Catherine McAuley
Messages to: Geraldine Mugavin rsm

Photos:
Top – sitting outside the Chapel listening to Sr Mary Moloney
Bottom – Charlie and Georgia – school captains thanking Sr Mary