Archived News Item
December edition of LISTEN out now
December 21, 2006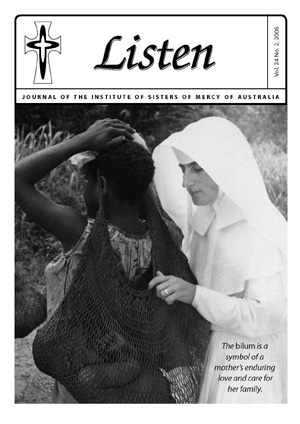 Editorial from LISTEN, December 2006
There is something eucharistic about anniversaries. They offer us a sort of "˜rhythm-of-life' opportunity to recall and celebrate past events, as we derive from them new vitality for the present and hope for the future. Usually, anniversaries of significance, especially when marked in friendship or solidarity with others, arouse strong feelings – love, pride, immense gratitude to God and to the ones who are remembered. Sometimes they have the power, almost sacramental, to be deeply transforming of hearts and minds.
I was thinking along these lines as I reflected on the several distinctive anniversaries which we in the communion of Sisters of Mercy have celebrated this year, 2006: the founding of our Order by Catherine McAuley, one-hundred and seventy-five years ago; the arrival of the first Sisters of Mercy in Australia, one-hundred and sixty years ago; the commencement of our mission in Papua New Guinea fifty years ago; and the formation of the Institute of Sisters of Mercy of Australia, twenty-five years ago.
Each of these anniversaries represents a unique contribution to our sacred "˜Mercy story', our own salvation history, which we are co-creating with our wise and provident God. Each one urges us to remember and celebrate God's initiative in calling women of a particular time and place, and their brave, faithful response. It tells us again how these women were entrusted with Works of Mercy among God's people, and with the privilege of nurturing among themselves the graces and gifts of sisterhood. And it moves us today to give heartfelt thanks that we similarly are called, entrusted and privileged.
LISTEN gives testimony that the past is always present, in this eucharistic sense, through its various features to mark the anniversary of our mission in Papua New Guinea: the evocative cover; Teresa Flaherty's second article in which she sensitively weaves the motif of the bilum to hold the story of the last twenty-five years; Sean O'Donohue's paper about the Jubilee project through which the sisters are making intervention into some of the worst social problems, written from his perspective as a worker with Australian Volunteers International; Margaret Roni's reflection on her demanding health care ministry in the East Sepik Province; and the simple, heart-cheering "˜mercy' story behind the sand painting of Catherine McAuley.
The anniversary of the Institute is acknowledged here by an article based on some reminiscences of Father James Esler SM who was the canon lawyer working closely with the sisters as they prepared to seek approval from Rome for the new entity. In this time of reconfiguring, the question of whether or not the formation of the Institute in 1981 was understood to be the ultimate structure for Sisters of Mercy in Australia and its foundations is pertinent.
Another eucharistic character of anniversaries is that, having given us a "˜soul charge', they "˜send us back', as it were, to the day by day realities, the locus of real transformation. Perhaps! Readers might find this in the other contributions to LISTEN: Christine Smith's insight into ministry, honed with honesty through her years in Wilcannia; thoughts about the Institute's reconfiguring from Duyen Nguyen, Victoria Cobb and Maria Lawton; Deirdre Murphy's apparently simple but profoundly moving experiences along her pilgrim way; and in poetic style, Judith Carney's musing about the dynamic impulse of the Spirit, and Gabrielle Travers' reflection about the ever-new life of Mercy. Perhaps one of the most compelling "˜day-by-day' realities for LISTEN readers is the way we experience religious life. In that regard Doris Gottemoeller, in her two papers, offers a scholarly appraisal of dominant trends and suggests some possibilities for the future.
I named above a few deep feelings which anniversaries can evoke. Another such feeling is a desire for reconciliation. Surely this too is eucharistic, and more so, when it leads to practical, effective justice. Linda Burney's paper, first presented to mark the forty years since Vincent Lingiari led his people in bold action towards obtaining land rights for Aboriginal Peoples, is a spirited, in-spirited challenge to all with a heart to work for lasting reconciliation among all Australians – Indigenous and non-Indigenous.
Once again, I want to thank warmly and sincerely all who have contributed to this edition of LISTEN – those who have written for it and Kathy Fuller and Stephanie Thomas who have ensured its timely and professional production.
Finally, a thought or two about another anniversary – the incarnation of our God. With the increasing plethora of populist distraction, it is difficult for many of us to keep a sharp focus on the meaning of this event and to allow ourselves to be a little transformed by it.
So, for what should we pray this Christmas?
The gift to gaze steadily on God's mystery.
The gift to enjoy the wild wonder of God-among-us.
The gift of peace, to share with hearts and places ripped by discord.
The gift of tumbling, drenching, soaking rain.
May each of us receive these gifts in abundance.
Blessings.
Caroline Ryan RSM (Editor)
Photo: (circa 1958) of a mother from Wewak, PNG carrying her baby in a bilum with Mary Wildie RSM (Sister Mary Felix) of Rockhampton Congregation looking on.
"The bilum… is considered a feminine symbol used for the most precious and essential things a woman carries – first, and above all, for her baby, then for garden food, or firewood. It is a symbol of her enduring love and care for her family."