Archived News Item
December edition of LISTEN available
December 22, 2009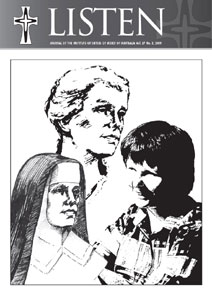 The December edition of LISTEN, the journal of the Institute of Sisters of Mercy of Australia, is out now. This edition focuses on Catherine McAuley. Contributors include: Mary Reynolds RSM, Janette Gray RSM, Elizabeth Young, Mary Pat Garvin RSM, Marie Melville RSM, and Claudette Cusack RSM.
EDITORIAL
This LISTEN is essentially about Catherine McAuley – her life and life's work, and the way her understanding of God's mercy continues to excite our faith and offer Gospel meaning for our lives.
The first six papers, each with suggestions for reflection and prayer, are the substance of a retreat which Mary Reynolds RSM intended for sisters and friends of the Australian Institute earlier this year. I am deeply grateful to Mary for her graciousness in making them available to LISTEN and I am confident that they will be a powerful resource for all who want to be charged and recharged by the memory of Catherine and her earliest sisters.
To use some of Catherine's favourite words, I hope that readers find Mary's talks and reflections "animating", "cheering" and "consoling" and indeed, that we will experience Catherine anew as a "cordial", "ever-affectionate" mentor and friend. I hope too that this retreat will motivate and strengthen our discipleship as we continue to follow "the principal path" of Mercy which Jesus has marked out for us.
The other contributors, Elizabeth Young, Claudette Cusack RSM, Mary Pat Garvin RSM, Marie Melville RSM and Janette Gray RSM, each writing for a different purpose and context, offer a range of perspectives on Mercy life and mission. These perspectives are both informative and formative. If we receive them as faithful expressions of Catherine's founding inspiration, right and relevant for our time, perhaps they can also be a little transformative. Wouldn't she be animated, cheered and consoled by that!
These days, as we prepare to celebrate Christmas, and all that we are promised by God's radical-beyond-measure immersion into our humanity, let us ask Venerable Catherine to pray for us. Like her, may we keep our focus sharp and uncluttered so that our gaze is always on the ones for whom Jesus had a preferential love, the ones who had first claim on his mercy, the ones whose very life-chance depended on his justice. Catherine knew who they were in nineteenth century Ireland. Who are they in our time and place on the earth?
With warm thanks to all who have involved themselves so generously and competently in the content and preparation of this issue.
Blessings.
Caroline Ryan RSM, EDITOR
CONTRIBUTORS
Formed and Reformed (Paper 1) – MARY REYNOLDS RSM
Take From My Heart All Painful Anxiety (Paper 2) – MARY REYNOLDS RSM
Support Me All the Day Long (Paper 3) – MARY REYNOLDS RSM
The Business of Our Lives (Paper 4) – MARY REYNOLDS RSM
Like the Compass (Paper 5) – MARY REYNOLDS
Affectionately Yours (Paper 6) – MARY REYNOLDS RSM
Catherine McAuley – JAMES MCAULEY
Mercy Moves Us To Dance With… – ELIZABETH YOUNG
Reflection on the Vows – CLAUDETTE CUSACK RSM
For the Love of Mercy: Encouraging Conversation – MARY PAT GARVIN RSM
Healing, Liberating, Life-Giving Mercy of God – MARIE MELVILLE RSM
Mercy and Justice: "Embrace the Other and Welcome Difference…" – JANETTE GRAY RSM
PLEASE NOTE: If you would like to subscribe to LISTEN, the Institute's theological journal, published twice yearly ($25 per annum), find out more here.
Alternatively, a limited number of single copies are available for purchase from the Mercy National Centre. Contact Kathy Fuller on Phone: +61 (0)2 9564 1911 or Email: kathy.fuller@mercy.org.au