Archived News Item
December 2009 edition of THE BILUM available
November 19, 2009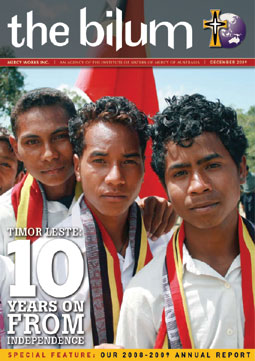 The December edition of The Bilum, the magazine of Mercy Works Inc., is out now. The entire magazine is also available online in PDF format, or you can download individual stories.
Our cover story focuses on Timor Leste. Ten years on from the historic referendum when East Timorese voted overwhelmingly for independence from Indonesia, the country is slowly rebuilding. While significant challenges remain for Asia's youngest and poorest nation, there are signs of hope.
This edition also features our 2008-2009 report which demonstrates how Mercy Works Inc. is tackling the Millennium Development Goals (MDGs) through support of long-term development projects in poverty-stricken communities overseas and in Australia.
There are also our regular sections: From the EO, News, In Focus, In Conversation, and In the Community.
We hope you enjoy the range of stories and issues covered.