Archived News Item
Damascus College students think globally, act locally
November 18, 2009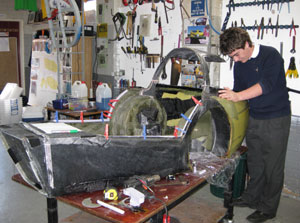 A group of students from Damascus College in Ballarat, Victoria, have committed themselves to a project that will raise awareness about the environment and funds for Mercy Works Inc.
The students are participating in the RACV Energy Breakthrough project, an exciting initiative that provides opportunities for students, teachers, parents and local industry to work together to design and construct a vehicle, a machine or innovation in technology that represents an "energy breakthrough".
For the past 13 years, students from Damascus have designed, engineered and constructed advanced pedal, solar and hybrid-powered vehicles, and have participated regularly in a variety of competitions.
Once their 2009 vehicle is built, the Damascus team will ride from Darwin to Melbourne to raise awareness of everyday solutions to reducing greenhouse gas emissions.
The event will also raise funds for several charities, including Mercy Works Inc.
Mercy Works Inc. is grateful to Damascus College for their efforts!