Archived News Item
Dads can get the Baby Blues Too
October 27, 2014
As Movember grows into its 12th year, men's mental health will again be thrust into the public consciousness.
This cause raises awareness and encourages treatment so that men around the world can understand and feel comfortable about seeking help for their condition. Movember also highlights areas of men's health that might be overlooked by society as a whole.
One such area is postnatal depression (PND), where efforts to help have traditionally focused on mothers and have sometimes overlooked fathers.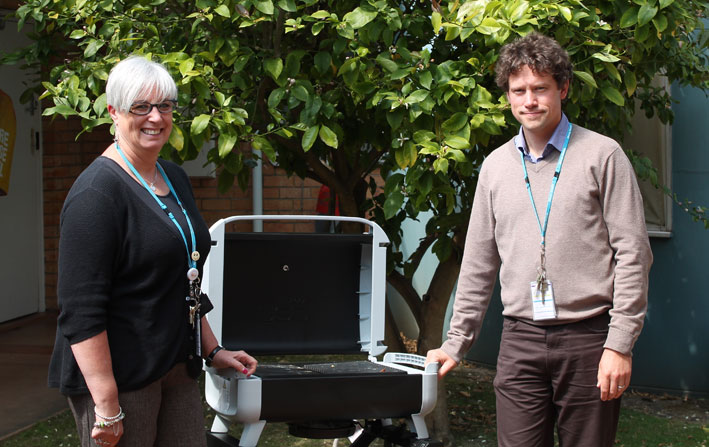 However, the clinical staff at Mercy Health O'Connell Family Centre believe this should not be the case, with a special emphasis on validating a father's role within the family dynamic.
Of the 149 fathers admitted to the centre in 2013-14, 12 per cent (18) were identified as suffering from depression while 14 per cent (21) screened positive for anxiety.
Psychiatrist Dr Matthew Roberts, who has worked at the Canterbury centre for the past six years, is passionate about fairness in families, believing that motherhood and fatherhood are equally vital to child wellbeing.
"The biggest issue we find with dads admitted to the centre is validation," Dr Roberts said. "Dads can struggle to feel validated, to be the essential part of the child's life that science tells us they are.
"If you can help dad, you can help the family through dad."
Mercy Health O'Connell Family Centre is also in the process of building on its successful Wednesday night group with a new session known as Babies, Blokes and BBQs.
The sessions, which have been partially funded by the Inger Rice Foundation, will involve play time for dads and children from 4.30pm. This will be followed by a BBQ and finally a men's group chat.

"We get a lot of dads asking for more programs like this,'' Dr Roberts said. "It is great for a dad to listen to other dads talk, they are there to help each other."
He also said he believed there was a societal movement away from the term Maternal Child Health to Child and Family Health, incorporating fathers into the conversation.
"There's an increasing effort by our Maternal and Child Health nurses to welcome, respect and include fathers. It's time that effort was reflected in the name of the service,'' he said. "It's so important to recognise the role of both parents."
Messages to: Adrian Bernecich – Media Officer Mercy Health
Website: www.mercyhealth.com.au
Photo: Mercy Health O'Connell Family Centre Manager/Director of Nursing Kirsten Evans and Psychiatrist Dr Matthew Roberts.