Archived News Item
Cuts for a Cause helping mothers and babies
November 18, 2009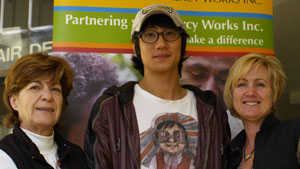 Maternal and infant health projects supported by Mercy Works Inc. in Papua New Guinea and Timor Leste have received a welcome boost thanks to the generosity of Sydney businesswoman, Poppy Kostopoulos.
Poppy, the owner of Sydney hair salon, Hair Tales, and her co-workers, Julie Stamp and Jay Woo, hosted "Cuts for a Cause" on Sunday June 28. The three volunteered their time and expertise on a precious day off to raise funds for Mercy Works Inc. and to alert the community about the very high rates of maternal and infant mortality endured by Australia's near neighbours.
For Poppy, the decision to host the fundraiser was personal. It was her way of "saying thanks to God" for the safe delivery of her grandson, born prematurely at 34 weeks, and for the well-being of her daughter.
"[This experience] made me appreciate access to modern medicine and facilities," she said.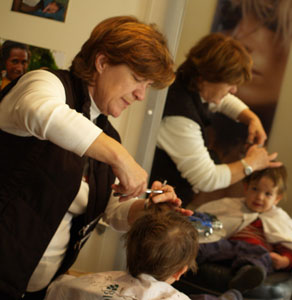 "I felt that I needed to do something to help improve the conditions of mothers and babies in less fortunate circumstances."
A steady flow of people came through the salon to have their locks cut and styled for $30, but there were also those who dropped in just to make a donation.
"The day had a great feel and the goodwill of those present was tangible," said Mercy Works Inc. Executive Officer, Sister Rosie Carroll.
"While the event raised a much-needed $1864, the opportunity to inform people about issues of poverty on our doorstep was just as important. A heart-felt thanks must go to Poppy, Julie and Jay. We at Mercy Works Inc. are moved by their generosity and compassion."