Archived News Item
Couple help make water project possible
January 27, 2009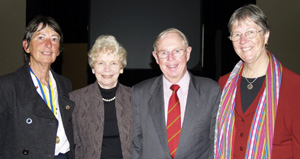 When Pam and Peter Dougherty of Grafton, on the NSW north coast, heard Mercy Works Inc. Executive Officer, Sister Rosie Carroll speak in their parish during 2006 about the difficulties facing remote communities like Fohorem in Timor Leste, they were moved to action.
Having visited Fohorem only a short time before, Rosie described how a district of about 4,500 people desperately needed a safe and permanent water supply. Because they were denied this basic human right, the community's health, education and employment opportunities were affected severely.
"Nearly two years on, Fohorem's new water system is almost complete", says Rosie.
"And this is because of the generous response of Pam and Peter, as well as the Sisters of Mercy Sunderland North East England and Australian Rotarians.
"We at Mercy Works are deeply grateful to all of them for their commitment to the people of Fohorem. Now the district can move forward with confidence because it has access to a safe and permanent water supply."