Archived News Item
Corporate Support for Mercy Works Kiunga
June 15, 2011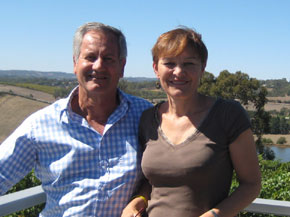 Horizon Oil Limited, an Australian oil and gas company operating in Papua New Guinea (PNG), has announced it will provide financial support for the Mercy Works Kiunga programme over the next two years.
Horizon and its predecessor company, Bligh Oil, have held two petroleum exploration blocks in PNG's Western Province for the last decade, and currently employ a good number of PNG Nationals.
According to Brent Emmett, Horizon Oil's Chief Executive Officer, this decision from Horizon's management and board stems from a desire to contribute to the communities in which the company operates and to help where it can.
"It also makes good sense from our perspective to engage with the community on a level beyond that required by laws and regulations," says Brent.
Brent first learnt about Mercy Works' involvement in PNG last year after reading an article in The Bilum. His wife Vicki has had a connection with Mercy Works for some time now, having been a volunteer with one of the agency's refugee support projects.
"Although we find the whole [Mercy Works Kiunga] programme appealing, it was the particular focus on helping women in the region in areas such as leadership, safe motherhood and improved family life that convinced us to lend our support," explains Brent.
"We firmly believe the programme will lead to a tangible and sustainable increase in the standard of living in the Western Province."
Brent also says his company was "very impressed" with the results that Mercy Works' projects in Kiunga are able to achieve "from a fairly modest budget". "Horizon Oil itself has a culture of frugality and we admire it in others," says Brent.
For Rosie Carroll, Executive Officer of Mercy Works, this new collaboration is very timely given Mercy Works' recent decision to consolidate its efforts in the Diocese of Daru-Kiunga.
"We are grateful to Horizon Oil for their belief in, and commitment to, Mercy Works Kiunga, and look forward to a fruitful collaboration that will improve the lives of people in this remote area."