Archived News Item
Conversations in PNG
May 25, 2014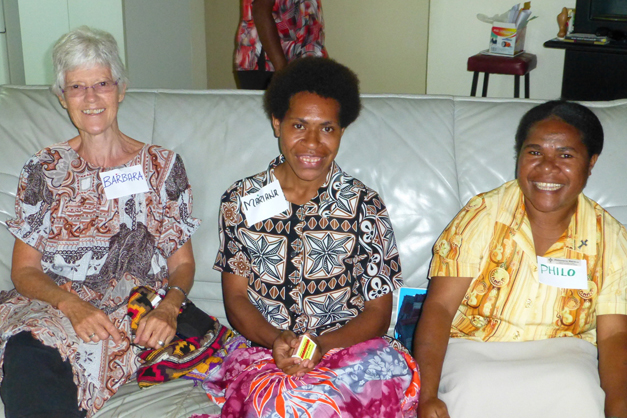 Every hindrance was overcome. Cancelled flights; sitting for many hours on mattresses in the back of twin cabin utes; avoiding potholes and fallen rocks: these were just minor details involved in getting to Goroka, if not always on time – well, for the original starting time – still in good time to take part in what proved to be a vigorous, engaging, enlightening and heartening conversation.
The PNG Sisters, together with Australian Sisters currently in PNG met with some members of the Institute Formation Council to talk about the best ways to ensure that young Sisters have available what they need for their education, and that young women wanting to join the Sisters of Mercy are both well prepared before entering and well cared for when they do, both spiritually and educationally. Berneice Loch, our Institute Leader also came to be part of the conversation, which was sensitively and skilfully facilitated by Presentation Sister Anne Lane.

Theresia Tina and Barbara Bolster gave a report on the consultation as soon as they returned from PNG (cf. ILT Newsletter no. 32). There they wrote of 'deep listening', of 'mutual exchange', of 'great energy' and of 'a strong desire in the sisters to take responsibility at their local place'. That these were not just nice phrases is attested to by the fact that this way of interacting made it possible for three significant and challenging decisions to be made in just two days of conversation.
As those days progressed I thought about the significance of conversation in our lives. We appreciate it so much when it is present, miss it so deeply in its absence. What may be not so apparent is that that depth of feeling stems from the fact that conversation is not only part of the very make-up of our consciousness but is also the best expression available to us of the way in which we are 'made in the image and likeness of God'.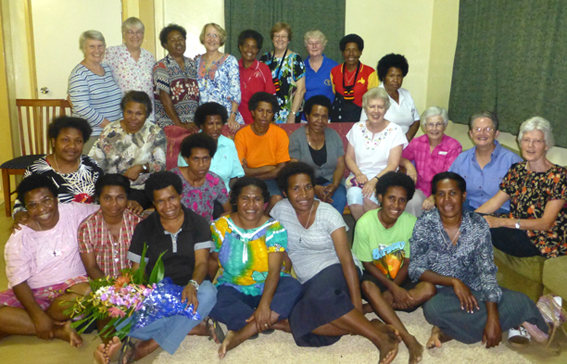 Philip McShane, in the Introduction to a little book called 'Music that is Soundless: An Introduction to God for the Graduate', writes
… in so far as one has tried to understand one's own real conversations, one has tried to understand the unique image of the Triune God. So, for example, in so far as one has really spoken, really flowed forth in word and gesture, one has data through which, by dedicated contemplative reflection, one may glimpse what occurs in God. There is speech in God, in an ambience of Unrestricted Understanding. That speech is not about God: it is God, a single rapturous Word. Again, in so far as one has listened, not merely with ear but with understanding eye and heart and toe muscle, then one may reflectively move to some glimpse of that absorbent Joyous Ear of God which is the Spirit.
So, in one's real conversations (which cost, and sometimes dearly cost) one is at once most human and most an image to oneself and others of the Trinitarian God.

In the conversation in PNG, I experienced others – myself too – listening 'not merely with ear but with understanding eye and heart and toe muscle' and speaking from the heart 'flowing forth in word and gesture', sometimes with few words, sometimes more fully. People were really engaged, really wanting to understand, and so speaking and listening in a way that would make understanding possible.

It is little wonder that when such conversations happen, good decisions are made, decisions people have put their heart and mind into making. Decisions made this way have a good chance of being put into effect as those who made them are right behind them: they want them to succeed. The true wonder is that in these real conversations one is both 'most human' and 'most an image of the Trinitarian God'. That is worth thinking about!
Messages to: Kathleen Williams
Top Photo L-R: Barbara Broad, Mariana Kawagle, Philomena Waira.
Bottom Photo: The Group