Archived News Item
Continuing Commitment to Justice
November 3, 2011
'Young Mercy Links'
*Young Mercy Links is an initiative of the Melbourne Mercy Congregation for young adults committed to mercy and justice.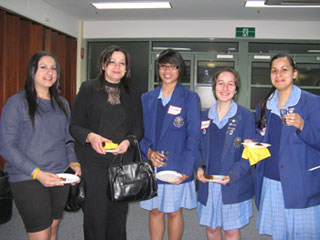 On the Friday evening 14th October, The Academy of Mary Immaculate in Fitzroy hosted senior students from five Mercy Secondary Schools for an evening to learn more about the post-school initiative Young Mercy Links.
The students from the Academy began the evening with prayer and reflection. One of the students from Mt. Lilydale College spoke with refreshing insight and enthusiasm for Catherine McAuley's story, following her recent experience of the Young Mercy Leaders Pilgrimage to Baggot Street in Dublin before World Youth Day. She inspired us with their 'Action Plan' from the Pilgrimage.
Our first guest speaker for the evening was Carolyn Merry, who has worked as a trained nurse with Medecins Sans Frontieres (Doctors Without Borders) for twelve years, and has just returned from Yemen. Carolyn chose the theme "Slavery in my Time", sharing with us confronting stories and images of the insidious reality of human trafficking around the world. Last year Carolyn rode from Sydney to Melbourne to raise awareness and funds to help support ACRATH (Australian Catholic Religious Against Trafficking in Humans) in their efforts to eliminate human trafficking and slavery. Carolyn answered questions of those gathered with conviction and compassion.
Young Mercy Links' members gave an outline of the three Social Justice Education Forums they had prepared and presented throughout the year. The three evenings focused on Cambodia (Run for their Future), Asylum Seekers (Mythbusters), and Homelessness (Out of Sight, Out of Mind). Invitations for the evenings were extended to family, friends and Mercy schools' students and teachers. Young Mercy Links presenters were eager to invite the students to continue their involvement in justice issues through Young Mercy Links when they leave school.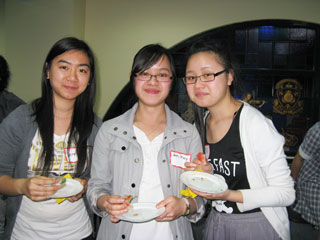 Louise Black gave an overview of the variety of volunteer work that members of Young Mercy Links have been involved in around the city this year. Some members have volunteered at St. Mary's House of Welcome in Fitzroy, which provides breakfast, lunch and a variety of other supportive services for many homeless and disadvantaged people in the local area. Others have become involved in tutoring at the Homework Club through the Fitzroy Project. A small group provide pampering sessions once a month to the women at Regina Coeli Community in Flemington. Four young adults slept overnight in their cars one evening in August as part of the 'Wishin Sleepout', held each year to highlight the struggle of the many women and children who are unable to access safe, secure housing in Melbourne.
Our second guest speaker was Nadine Rabah. Nadine is a passionate English student in Year 11 at Mercy College Coburg who aspires to be a journalist. Nadine shared her story as a young Australian Muslim woman who challenges the stereotypes of both Lebanese and Australian cultures in the way in which she lives her life as a 17 year old young woman. She is a keen sports woman and cares deeply about issues of justice. She believes in the power of personal story to bridge the gap in understanding between culture and religion.
At the end of the evening the senior students in their school groups gave an overview of the great variety of endeavours they had been involved in during the year to raise both awareness and funds for issues of mercy and justice, locally and globally.
After expressing our thanks to all who attended the evening Sally Bradley RSM bought the evening to a close with a reflection based on Catherine McAuley's key aim in connecting the rich to the poor.
Many animated and enthusiastic discussions continued over a delicious supper provided by the Asylum Seeker Resource Centre.

Val Mooney (Project Co-ordinator of YML), Margaret Moore RSM and Sally Bradley RSM