Archived News Item
CONTINUE TO SHINE THE LIGHT
September 11, 2015
An Invitation for Sisters of Mercy, friends, Mercy ministry groups who care about the plight of the Syrian refugees and so many others seeking sanctuary.

KEEP THE LIGHT SHINING ON REFUGEES AND ASYLUM SEEKERS
The Prime Minister's announcement this week to accept an extra 12,000 refugees from Syria and Iraq is welcome news.
While the light has appropriately been shone on these people, Australians must not forget the thousands of other refugees who are in darkness stranded in countries without adequate protection, including large numbers of stateless Rohingyas fleeing persecution and violence in Myanmar, Hazaras facing systematic and determined extermination in Afghanistan and many others.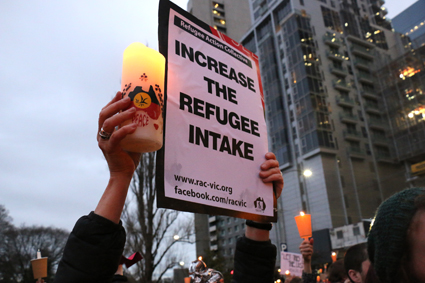 Photo: Anne Walsh
We must continue to shine a light on the many harsh policies which are in place such as offshore processing, the lack of provision of safe arrivals and the mandatory detention of people including children. Rather than treating asylum seekers as the enemy, we should extend a warm heart of compassion to people who have already suffered horrific circumstances.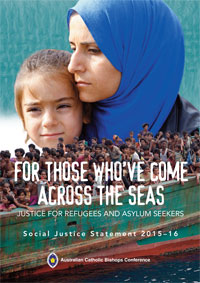 On Social Justice Sunday, September 27, the Australian Catholic Bishops Conference will issue their 2015-2016 Social Justice Statement 'For Those Who've Come Across the Seas: Justice for refugees and asylum seekers'. Accompanying this statement are ten useful steps you can follow to assist in achieving justice for refugee and asylum seekers:
Listen to the stories
Allow yourself to be touched by the stories of refugee and asylum seekers
Get the facts
Pray regularly for refugee and asylum seekers
Envision a new way of responding
Work to raise awareness
Join or setup a support group
Support agencies assisting asylum seekers and refugees
Challenge your political representatives to take a stand
Join in 2016 events: Refugee Week and Refugee and Migrant Sunday.
For further information use the following links:
Australian Catholic Bishops Conference
http://www.socialjustice.catholic.org.au

Asylum Seeker Resource Centre [asrc]

http://www.asrc.org.au/
Refugee Council of Australia [Fact Sheets]