Archived News Item
CONTEMPORARY ART IN THE SPIRIT OF HILDEGARD
October 19, 2015
Viriditas' is a concept devised by Sr. Hildegard of Bingen which describes the' greening power of Life- God in all its fullness'. It is also the name chosen by Margaret Broadbent rsm for her contemporary art studio. Here is some latest news from Margaret and 'Viriditas'.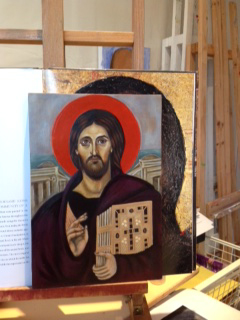 For me, September 2015 was a month filled with celebrations never to be forgotten. The feast of St. Hildegard of Bingen, celebrated on September 17 and the first gathering of ISMAPNG Sisters who work under the auspices of McAuley Ministries Limited were both very big highlights. The spirits of Hildegard and Catherine McAuley are alive and well with great support and encouragement emerging from the hearts of Mercy.
Viriditas Contemporary Art Studio now has a logo with thanks to Anne McMillan's artistic skills, the approval by the Board of McAuley Ministries Ltd and encouraging words from Denise Fox rsm (C.E.O. MML). The symbolism centres on the notion of Viriditas with its 'greening ' power to awaken the world into a new dreaming and fullness of life, through the embrace of the cross in the love of the Trinity.
A new website has also been created for the Viriditas Contemporary Art Studio. Special thanks to Deb Carter, Erin Newman and Nerida Tinkler rsm from Fraynework for their work on the new website. Erin is to be congratulated for her sensitive, graphic designs and creativity. To view the website click HERE.
This particular website is powered by Shopify and is a "complete ecommerce solution that allows you to set up an online store to sell your goods. It lets you organise your products, customize your storefront, accept credit card payments, track and respond to orders- all with a few clicks of the mouse". Needless to say, I have a number of lessons ahead of me as I come to understand this particular way of putting artworks into the community. Thanks to MML and Denise Fox rsm for a generous Grant that will cover the cost of the new website.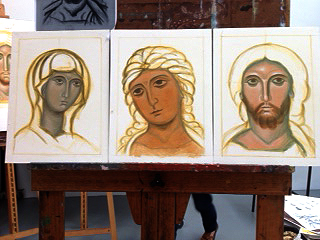 These past twelve months have been full-on with a Commission for St. Joseph's Church in Hawthorn. Four Icons were painted -one for the lectern and three for the altar frontispiece. Two more Icons are commissioned for Villa Maria Catholic homes in 2016. In January 2016, the two young Russian Iconographers, Philip Davydov and Olga Shalamova will be directing two Icon Courses at Australian Catholic University. There is also a very interesting Art Prize-"The Mandorla Art Prize"- in Perth to which I was invited to enter. The theme is RESURRECTION and I have accepted the invitation. Work for this needs to be completed by mid-May 2016.
An invitation to attend and direct a workshop at the International Viriditas Conference in Bingen, Germany has also arrived and I am still thinking about this possibility. In July, I head off to Alice Springs to get back into the land to paint some artworks for the 2017 Exhibition.
The most exciting adventure is still to come from November 4 – December 12, 2015. This is a short-term position as an Artist-in-Residency at St. John's Abbey, Collegeville, Minnesota, USA. I will be working on some ideas around the notion that in the 'Spirit in this land- Australia' a 'white' woman can have a dreaming which can be expressed through art. The notion of dreaming in connection with Christian and Celtic iconography will continue to be explored. What an amazing year it has been and the more is yet to come.
Messages to: Margaret Broadbent rsm