Archived News Item
Consolidating support in remote PNG
June 15, 2011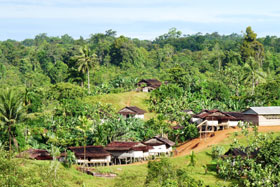 Since 2003, Mercy Works has been supporting a number of community development projects in the Diocese of Daru-Kiunga, a vast area covering most of Papua New Guinea's Western Province. This year, however, sees those individual projects linked and resourced under the umbrella programme, Mercy Works Kiunga.
For Gaye Lennon RSM, Mercy Works' Co-ordinator of Offshore and Indigenous Programmes, the Mercy Works Kiunga programme will enable a more holistic response to the issues facing communities in this remote area.
"Mercy Works has had a long relationship with the Diocese of Daru-Kiunga through the presence and work of Sisters of Mercy, Maureen Sexton and Catherine Corbett. The Bishop of Daru-Kiunga, Gilles Cote SMM, has been very keen to collaborate with Mercy Works in a way that enhances sustainability and capacity building.
"Given the success of the structure and process used with Mercy Works Goroka-Mt Hagen, it seemed to be timely to explore the possibility of a programme with project activities in the areas of education, health, community development and capacity-building for Kiunga," says Gaye.
According to Maureen Sexton RSM, who will manage the new Mercy Works Kiunga programme, this development is "a natural evolution". "[The consolidation of projects] is really helping to shape the Mercy Works' presence in the Daru-Kiunga Diocese," she says.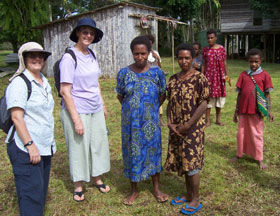 Over the past eight and seven years, respectively, Maureen and Catherine Corbett RSM have established a Mercy Works presence in the remote North Fly District. In that time each has made a significant contribution, co-ordinating specific projects in partnership with the local community.
While Maureen's work has focused mostly on maternal and child health issues, Catherine's has concentrated on empowering women.
In addition to the projects run by Maureen and Catherine, there has been a natural and steady growth of other Mercy Works' supported projects co-ordinated by local personnel. Such initiatives include the Emmaus Farm for unskilled and at-risk young men; the Matkomnai literacy project for women; a diocesan-wide violence prevention programme; sponsorship for post-secondary students; and most recently, the establishment of an eaglewood tree plantation.
Under the new Mercy Works Kiunga programme, Catherine's role as Women's Animator with St Gerard's Women's Group will continue, but Maureen's has changed. "Instead of co-ordinating one project I will be managing a number of projects," explains Maureen.
As Programme Manager she will mentor and resource the co-ordinators and teams of all projects supported by Mercy Works in the diocese. Maureen will also be in a good position to work with local people to identify needs and future projects. "It's about enabling other people to do what I was doing before in a particular project," she adds.
Maureen says there is an excitement about the new programme approach. "People on the ground can see that Mercy Works is showing a new level of interest and is able to assist them and build their capacity to do the work. It feels like it's been a very good move to make and it's already making an impact," she says.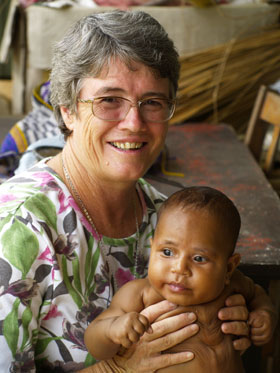 For Catherine Corbett RSM (right) and Florida Woia, Co-ordinator of the St Gerard's Women's Centre, the extra level of support and mentoring will strengthen their ability to provide women in Kiunga and remote villages with skill development opportunities they would otherwise not have.
"The development of the Mercy Works programme here in Kiunga gives us concerted ways of carrying this project to a deeper level where women can become leaders in their own communities," says Catherine and Florida.
Meanwhile, Bishop Gilles Cote SMM is "very thankful" for the new programme. "The generous commitment of Mercy Works makes it possible for us to strengthen our capacity-building programmes and plan for a more self reliant future," he says.
"With the new partnership, the various programmes that are planned will bring a variety of blessings to our people. The new Mercy Works Kiunga Programme will surely make a big difference in the lives of many people."