Archived News Item
Congratulations to our sister jubilarians
April 22, 2008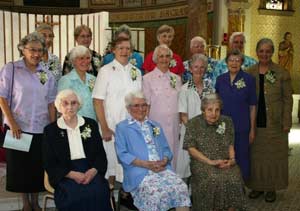 Front row: Sisters M Ignace McLoughlin, Brenda Bowne, M Dolores Lyne,.Second Row: Sisters Carmen Coffey, Joan Lynch, Marie Therese Rosenberg, Chris Gabbett, Nell Callaghan, Marie Fitzgerald, Anne McLay. Back row: Sister M Roseanne Quinn, M de Lourdes Jarrett, Genevieve Caffery, Ruth Wyatte, Margaret Kanowski, Chris Watt.
On Sunday March 30, 2008 the Brisbane Sisters of Mercy celebrated the life and commitment of 18 of their sisters. Those sisters celebrating were:
80 years (Oak Jubilee) Sisters M Brenda Browne and M Senan Conroy.
70 years (Platinum Jubilee) Sisters Loyce Gordon and M Ignace Mc Loughlin.
60 years (Diamond Jubilee) Sisters Christine Gabbett, M deLourdes Jarrett, M Dolores Lyne, Anne McLay, Marie Therese Rosenberg, Marie Fitzgerald.
50 years (Golden Jubilee) Sisters Ellen (Nell) Callaghan, Carmen Coffey, Margaret Kanowski, Joan Lynch, M Roseanne Quinn, Chris Watt, and Ruth Wyatte.
25 years (Silver Jubilee) Sister Genevieve Caffery.
Unfortunately, Sisters M Senan and Loyce were unable to attend because of ill health, but Sister Brenda, at almost 103 years young, was determined not to miss out on any of the celebrations.
On a perfect autumn day, the celebrations began with Mass in All Hallows' Chapel celebrated by Fathers Ken Howell and David Hore CSsR, friends of the jubilarians. From the Chapel we then retired to Café Renoir at Kangaroo Point where the celebrations continued on into the afternoon.
A couple of verses from a song by the golden jubilarians may give you an idea of the reminiscing that ensured throughout the day:
We answered every bell as the Voice of God;
We always got our prayers in, no matter what the hour,
We were like blunt pencils in the hands of our superiors,
Even if they told us to plant the cabbages upside down.
We knew the Holy Rule from the front page to the back –
"Keep the rule and rule will keep you" was engraved upon our hearts;
We also knew every word from the "Customs and Guide",
And obeyed all the various norms and practices – as good Sisters of Mercy should.
We eagerly awaited the dinner-time reading of St Ignatius' "My Spiritual Exercises";
Faithfully ploughed through Rodriguez and Tankeray;
Not forgetting St John's Gospel, and St Paul
Because Mother Benigna always stressed what a wonderful saint he was.
We packed our bags before every Christmas vacation
In case we heard our names on the changes for surprising locations;
And go we did with great trepidation,
But knowing that God was calling us to that very destination.
Here we are, and we're as happy as can be
To have you to share our Golden Jubilee,
And we'd like to thank you in all sincerity
For all that you have been for us.





Sister Brenda Browne

Sister M Ignace McLaughlan
Sister Genevieve Caffery
L-R Sisters M de Lourdes, M Dolores, Marie Therese, Chris Gabbett, Marie Fitzgerald, Anne McLay

L-R Sisters Margaret Kanowski, Ruth Wyatte, Chris Watt, Nell Callaghan, Joan Lynch, M Roseanne, Carmen Coffey