Archived News Item
Congratulations Sister Anna Nguyen Thi My Duyen
October 7, 2009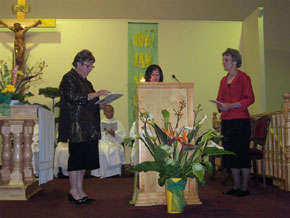 About 500 people gathered on September 24 to celebrate Anna Nguyen Thi My Duyen's perpetual profession as a Sister of Mercy of the Adelaide Congregation at Our Lady of the Boat People Centre in Poorake, SA.
Five priests concelebrated Mass with Bishop Gregory O'Kelly, Bishop of Port Pirie Diocese. Choirs sang in both English and Vietnamese. A number of sisters from Ballarat, where Duyen had studied earlier, were present, as well as Josephite sisters and staff from Port Augusta, where Duyen is currently teaching.
Some of Duyen's family had come from USA and celebrated with a large number of the Adelaide Vietnamese community.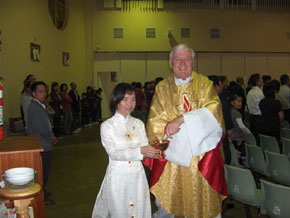 The official welcome, Bishop O'Kelly's homily, the profession of vows, a reflection on the vows, and a speech of thanksgiving by Duyen, were given in both English and Vietnamese.
Following the ceremony everyone was welcomed to substantial refreshments.
From: Bernadette Marks RSM (Local Communications Facilitator, Adelaide)