Archived News Item
Combined administration offices for Perth and West Congregations
October 11, 2007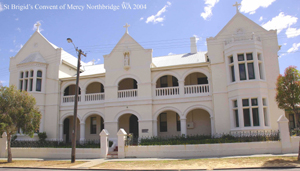 Approximately 55 sisters of the West Perth and Perth Congregations gathered with staff at St Brigid's Convent Northbridge on August 30, 2007 for the official blessing of the combined administration offices to accommodate the Perth and West Perth Mercies.
As St Brigid's is a heritage listed building, there was very little reconstruction within the interior of the structure. However, the offices have been beautifully furnished and equipped with modern resources.
This move was seen to be advantageous in sharing resources and personnel in this time of discerning change throughout the Australian Mercy Institute.
St Brigid's was the first foundation from Victoria Square. Mother Berchmans Deane, the superior, led the small group of six sisters to West Perth.
Those present at the blessing appreciated hearing the description of the building that was read during the welcome, part of which is included here:
A two storeyed structure, mantled in cream roughcast it was described as: "a fine specimen of architectural beauty. Its wide sweeping arches, above and below, were supported by substantial pillars that gave an air of pretentiousness and finish to the whole façade, which was richly decorated with ornamental cement works, bore in ribbon like formation, the words SANTAE BRIGIDAE HIBERNAE.
Apart from this imposing and attractive frontage, the spacious convent was "fitted up with every modern convenience, stopping short however at being lit by electricity or gas light." (Description taken from "Women out of their Sphere" by Anne McLay rsm).
A light lunch was served after which, those who wished, were taken on a tour of the building. Several other charitable organisations also share parts of this beautiful building.
The prayer used at the beginning of the intercessions made the following request:
"As we assemble today, we ask for a dwelling place not only in the city and in society, but also in the house that wisdom has built."
Written by: Sisters Clare Rafferty, Cath O'Connor and Joan Smith
Contact: Sister Joan Smith, (Local Communications Facilitator, Perth)
Email: joanis@ozemail.com.au