Archived News Item
Co2: Kick the Habit!
May 28, 2008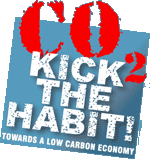 The Institute's Specific Issues Committee, Eco-Justice encourages you to have a look at resources prepared for World Environment Day (June 5) and the International Day for Biological Diversity (May 22). The World Environment Day slogan for 2008 is "Kick the Habit! Towards a Low Carbon Economy".
The International Day for Biological Diversity is observed on May 22 and proclaimed by the United Nations to increase understanding and awareness of biodiversity issues. Information and resources are available from the Convention on Biological Diversity.
This year's theme for the International Day for Biological Diversity (IBD), "Biodiversity and Agriculture", seeks to highlight the importance of sustainable agriculture not only to preserve biodiversity, but also to ensure that we will be able to feed the world, maintain agricultural livelihoods, and enhance human well being into the twenty-first century and beyond.
World Environment Day is observed on June 5 and the theme for this year is Co2 Kick the Habit – consciously and actively committing to reducing your "carbon footprint". Whether you are an individual or an organisation there are a number of steps you can take to reduce your carbon emissions. Many of these are already in the public arena and accessible. You may think you don't know where to begin, but by reading the ideas in the United Nations Environment Programme, World Environment Day, you may discover you have already begun.
From: Specific Issues Committee, Eco-Justice (Sisters Margaret Abbott, Mary Dennett, Kate McGrath and Patricia Powell). The Committee warmly invites your response to the article or the issue.
Email: eco.justice@mercy.org.au

Contact: Carmel Heagerty RSM, Institute Justice Co-ordinator
Email: Institute.Justice@mercy.org.au