Archived News Item
Citizen of the Year Award for Wilcannia sister
February 15, 2010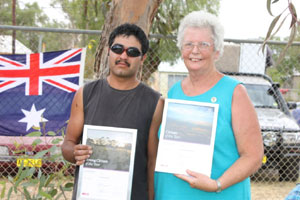 Congratulations to Margaret McGrath RSM (Wilcannia-Forbes) who was named 2009 Citizen of the Year in January by the Central Darling Shire Council. "For the past 16 years, Margaret has dedicated herself to St Therese's Community School and the community of Wilcannia," writes Nance Cale RSM (Wilcannia-Forbes). "Her care and compassion through some of the most difficult times has been inspirational and her inspiring manner encourages everyone to do their best."
Congratulations to Margaret McGrath RSM (Wilcannia-Forbes) who was chosen as the 2009 Citizen of the Year. For the past 16 years, Margaret has dedicated herself to St Therese's Community School and the community of Wilcannia. Her care and compassion through some of the most difficult times has been inspirational and her inspiring manner encourages everyone to do their best.
In accepting her award, Margaret expressed her surprise at being nominated and her appreciation of the recognition of her role in the community. She reflected over the past years and realised that she has spent a quarter of her life time in Wilcannia – a very challenging, enriching and happy time.
"I love living in Wilcannia and I believe we all have different gifts to offer the whole community," she said.
"My passion has always been in education… students learning and staff learning together. If we use our gifts we help build a strong community.
"Thank you all for your faith and trust in me. I feel quite humbled in accepting this award which will always remind me of Wilcannia."
Timothy (Rugby) Quayle, a former student of St Therese's Community School, was also awarded the Youth Citizen of the Year. Timothy is a promising young Wilcannia man who finished school to a satisfactory level, has a great work ethic and is always willing to help out when required. He is an inspirational person within the community and a great role model to the younger children of the town.
From: Nance Cale RSM (Wilcannia-Forbes)