Archived News Item
Christmas… a time of hope and promise
December 2, 2009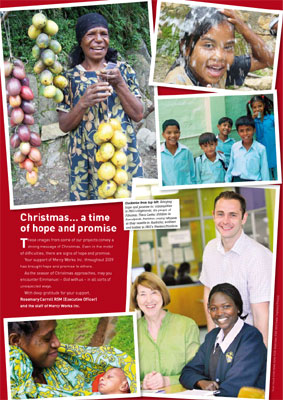 Christmas… a time of hope and promise
These images from some of our projects convey a strong message of Christmas.
Even in the midst of difficulties, there are signs of hope and promise.
Your support of Mercy Works Inc. throughout 2009 has brought hope and promise to others.
As the season of Christmas approaches, may you encounter Emmanuel – God with us – in all sorts of unexpected ways.
With deep gratitude for your support,
Rosemary Carroll RSM (Executive Officer)
and the staff of Mercy Works Inc.
Download the above graphic here or
click on the graphic.