Archived News Item
Challenging affluence and poverty in Australia
September 16, 2008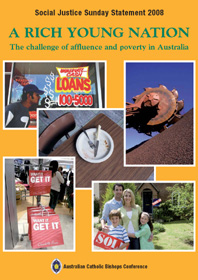 Australia's Catholic Bishops have used their 2008 Social Justice Sunday Statement to issue an urgent call for action to achieve justice for those afflicted by poverty in our affluent society. The Institute's Specific Issues Committee, Women and Poverty encourages all people of good will to download this statement, "A Rich Young Nation: The challenge of affluence and poverty in Australia".
"The challenge that Jesus presented to the rich young man (Mark 10:17-22) is the same we face in Australia today: will we use our great wealth for the benefit of all and particularly for those who have been denied the benefits of prosperity?" say the bishops.
"A Rich Young Nation: the challenge of affluence and poverty in Australia" – DOWNLOAD THE STATEMENT HERE.
Following the 2007 statement "Who is My Neighbour? Australia's role as a global citizen", we are led to acknowledge and work toward bridging the gap between rich and poor in Australia "the fastest growing economy in the world" (statement by Chris Richardson, Access Economics, ABC 1 Lateline, September 3, 2008). Yet, on any given night there are more than 99,000 Australians who are homeless (ABS, 2001 Census).
FURTHER INFORMATION AND STATISTICS
Brotherhood of St Laurence – Comparison of Centrelink payments and Henderson Poverty line (includes housing costs).
Melbourne Institute of Applied Economic and Social Research
Organisation for Economic Co-operation and Development – Australia Tackles Instability and Poverty in the Asia-Pacific Region and is urged to do more.
Women's Rights Action Network Australia – This paper resolving to change women's experience of poverty addresses nine key issues including defining poverty and impoverishment.
Wikipedia, Poverty in Australia – Poverty is also defined through other indicators such as education, health, access to services and infrastructure, vulnerability, social exclusion, access to social capital, etc. Indigenous and minority groups are sometimes referred to as the "Fourth World". In 2000, life expectancy of Indigenous Australians was some 20 years below that of other Australians. In fact, Australian Indigenous poverty ranks alongside countries as poor as Bangladesh where absolute poverty is real.
A New Initiative
IWDA (International Women's Development Agency) invited interested organisations to join a gathering last July for a briefing on Breakthrough presented by Suzanne Kindervatter from InterAction in Washington. Sisters Anne Ryan RSM and Carmel Heagerty RSM accepted the Institute's invitation to attend this gathering.
Breakthrough is an initiative of the Women, Faith and Development Alliance (USA) whose mission is to catalyse increased political will and investments in women and girls worldwide. WFDA put out a "Call to Commitments" in 2007 to faith communities, multilateral organisations, foundations, and development and women's NGOs asking them to commit to new resources, programming, and advocacy to advance women and girls worldwide (Millennium Development Goal 3) through their own organisations. The combined commitments of these WFDA partners total more than $US1.4 billion.
IWDA, with World Vision, are proposing that a similar event occur in Australia for the Asia-Pacific region in December 2009 to coincide with the Parliament of World Religions to be held in Melbourne from December 3-9. Among the projected outcomes is listed a clear and compelling case for investment in women and girls as key to alleviating global poverty.
Can you raise awareness within your ministry for new initiatives to empower women that could be come part of this Australian initiative? More information can be gained through the International Women's Development Agency.
The International Day for the Eradication of Poverty is on October 8. Will you talk with someone about these issues? The theme for this year is "Human Rights and Dignity of People Living in Poverty". A resource that may be helpful for your community group is available through the National Council of Churches in Australia – Faces of Poverty.
The Bishops' statement also speaks of the spiritual poverty that exists in our country – to empower women also includes addressing the widening gap created as women are continually excluded within the Church. How will we support our sisters to find meaningful community?
From: Specific Issues Committee, Women and Poverty (Sisters Leonie Crotty, Miriam Grech, Angela Reed, Anne Ryan). The Committee warmly invites your response to the article or the issue.
Email: women.poverty@mercy.org.au

Contact: Carmel Heagerty RSM, Institute Justice Co-ordinator
Email: Institute.Justice@mercy.org.au