Archived News Item
CENTENARY CELEBRATIONS IN INGHAM
August 7, 2015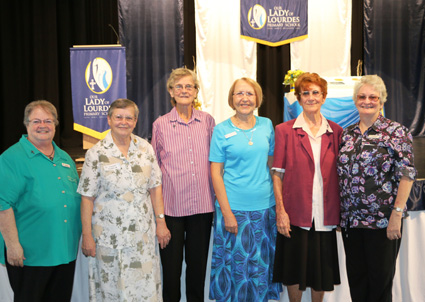 Over the long weekend in June, Lourdes Primary School in Ingham (100km north-west of Townsville) celebrated 100 years since the Sisters of Mercy arrived there in 1915. Sisters Beverley Strong, Ros Carr, Helen Mary Peters and Carmel Ruddick joined Sisters Nina Barra and Marie Geddes for this wonderful occasion.
At 1pm on the Saturday we were welcomed at the main entrance to the school by several students and invited to take a tour of the current facilities. The grounds were absolutely picture-perfect and the classrooms bright and cheerful. A number of teachers were present to talk about their various roles in the school and the activities of the children. A most interesting historical and interactive display was set up in the Library, where many old friends found themselves meeting again over roll books, photographs and videos. Perhaps the most impressive display, established especially for the centenary, was an inspiring walk set up close to the main gate of the school grounds. Here, one could find pavers with the names of past Principals, families, individuals and friends of Lourdes School. The walk led finally to a wall on which a local artist had sculptured a mosaic tree, depicting the names of every family associated with the school since its inception. Obviously this will be added to in the future.
At 2pm we assembled in the Menegon Centre where special guests and visitors were formally welcomed by the current Principal, Timothy Ham. Darren Firth, chairman of the centenary committee, added his words of welcome and introduced a number of items for our entertainment, including the school choir and a power-point presentation. There was much clapping during the official roll call, when students dating back to the 40's and up to the present were asked to stand. Following these activities, group and individual photos were taken outside the building, and then we returned to the grounds to join in the centenary fete, which culminated later in the evening, with a magnificent fireworks display.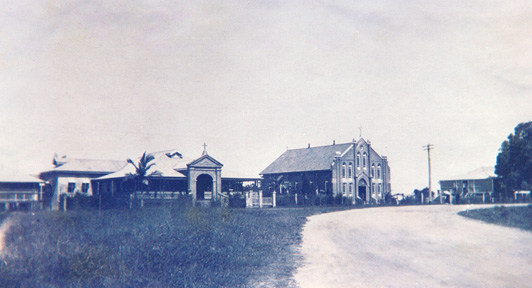 On Sunday, the centenary Mass was held in St. Patrick's Church at 5pm with parish priest, Fr. Damien McGrath as presider. Teachers, sisters, community members and children of the school choir had practised long and hard for this occasion and their music proved a great inspiration indeed.
Afterwards visitors and guests met outside the Menegon Centre for pre-dinner drinks. We were enthralled when we entered for dinner to find the centre completely decorated with rows of twinkling lights – truly beautiful. During the course of the evening there were a number of speeches, the drawing of the centenary raffle – $10,000 cash – and past Principals and other guests were presented with bottles of commemorative port. Music was ably provided by Mr. Tony Fraccia as those present mixed informally, remembering the happy and sad times, all of which have been great blessings from the God of Mercy for Our Lady of Lourdes School.
Message to: Carmel Ruddick
Top photo – from left to right: Sr Ros Carr, Sr Carmel Ruddick, Sr Marie Geddes, Sr Bev Strong, Sr Nina Barra, Sr Helen Mary Peters.
Bottom photo – Ingham Convent Complex around 1924. [Photo supplied by ISMAPNG Archives]