Archived News Item
Centenary Celebrations Begin
December 15, 2014
The Mater Hospital in Rockhampton launched its centenary celebrations on Friday, 14 November 2014. Still standing today, 'Kenmore', a private mansion built in 1894, was purchased by the Sisters of Mercy in 1915 from Mr John Ferguson for four thousand two hundred and fifty pounds. The reason for purchasing this stately building was to establish a Catholic hospital in the tradition of the Sisters of Mercy. Bishop Joseph Shiel, then Bishop of Rockhampton, blessed the new Mater Hospital on 14 November 1915. This event formalised the Sisters of Mercy ministry to care for the sick and dying. Since that date, while the Sisters and staff have consistently delivered quality care, the Mater site has evolved to meet the changes, demands and standards of private health-care.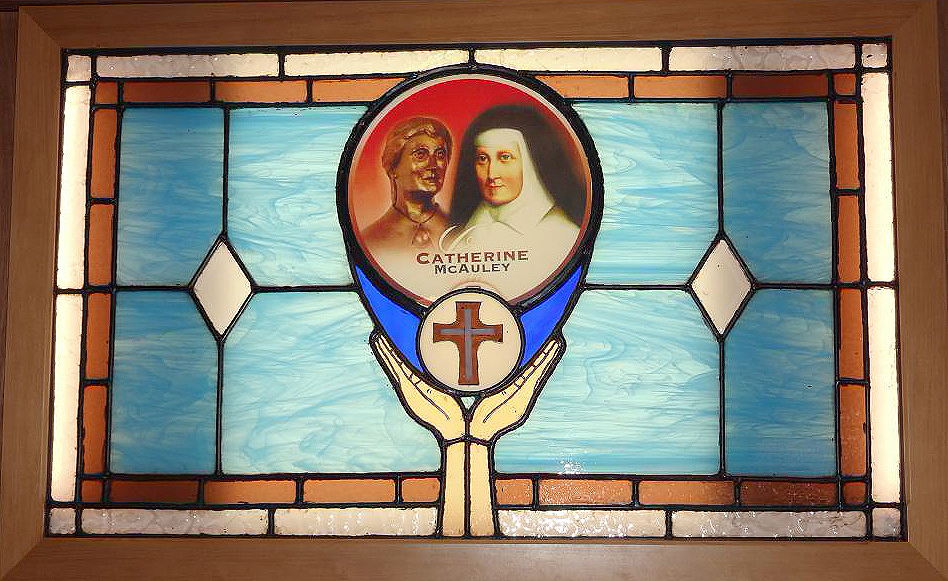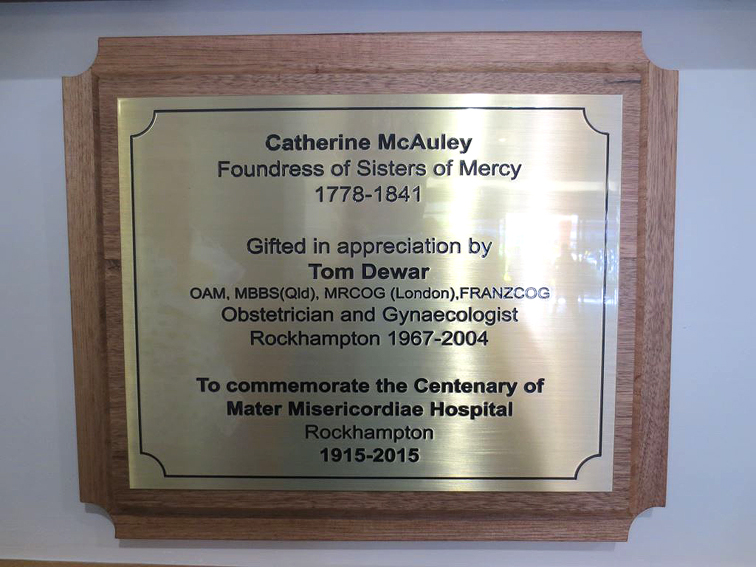 To mark the launch of the centenary year, a stained-glass window of Catherine McAuley, crafted by Dr Tom Dewar, was blessed by the Bishop of Rockhampton, Michael McCarthy. Dr Dewar is a well-respected and long-serving Obstetrician and Gynaecologist who delivered hundreds of babies at the Mater Hospital. Since retiring in 2004, Dr Dewar has developed a passion for creating stained-glass windows, some of which hang proudly in hospitals and schools in the Rockhampton area.
The window is prominently placed in the hospital's foyer where it can be seen and honoured by many people. Dr Dewar said he was inspired by Catherine McAuley and the Sisters of Mercy 'who had established this incredible facility that we know as the Mater Hospital and I thought the stained-glass window would be a fitting tribute to their passion for helping those in need.'
On behalf of the Sisters of Mercy, Sr Bev Strong, Northern Community Leader, welcomed the opportunity to thank Dr Dewar for his fine crafting of this inspirational window which recognises the dedication and years of service of the Sisters of Mercy and their co-workers at the Rockhampton Mater during the last 100 years. Sr Bev stated 'From the foundation of the hospital, many Sisters of Mercy have worked here. Through their commitment, dedication and belief in the importance of the ministry of caring for the sick, they set firm foundations for what the hospital is today. We also recognise the contribution made by many loyal and dedicated co-workers over the years. The Mater staff continues to provide exceptional health care in the tradition of Mercy.'
Many Sisters of Mercy, hospital staff and invited guests attended the blessing. Numerous events are planned throughout 2015 to celebrate the centenary of the Mater Hospital and the long tradition of providing quality health and aged care to the people of Central Queensland over the past one hundred years.
Messages to: Joanne Molloy rsm