Archived News Item
Celebration of Appreciation
November 11, 2013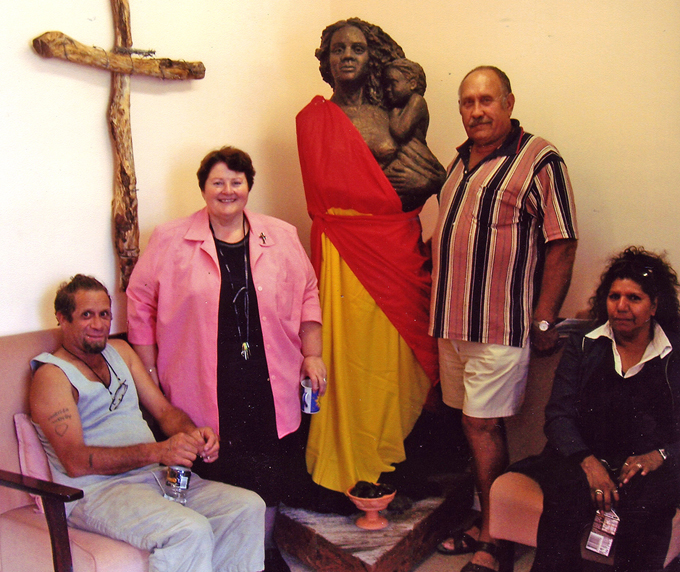 "There are two thousand people who have no one to break bread with them….."

The year – 1845 – when Bishop Brady requested Sisters of Mercy to come and join a missionary ministry to people who were living "on the edge" in Australia.
The year 2006 – Archbishop Hickey on behalf of the Perth Archdiocese again called on the Sisters of Mercy to respond to the need for Advocacy among disadvantaged people in Perth. Sr. M Dolores Coffey, who had already worked among and with the Indigenous community, joyfully responded to the invitation.
In the gathering space under St Mary's Cathedral the singing of "In the Lord I'll be ever Thankful" concluded a meaningful 'farewell' to Sr. Dolores Coffey rsm the founding Director of Daydawn, the Archdiocesan Ministry of Advocacy. Very simply, the hymn summed up the feelings of those present as Sr. Dolores passed on the leadership of this Archdiocesan Ministry of Advocacy. While there were feelings of sadness that Sister Dolores was moving to new pastures, all present could only say "goodbye" with a wonderful sense of having been part of an emerging ministry. Sister Dolores had a style of leadership that incorporated elements of 'waiting for the right time'; 'when it happens it will happen'; 'all are welcome'; 'no one person can do everything'; 'we are in this together'. Sr. Dolores could also take the hard stance where it was necessary. Integrity, Mercy and Justice were key in her vocabulary and way of acting.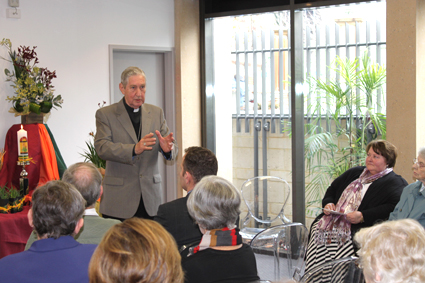 During his reflective retelling of the story, Archbishop Emeritus Barry Hickey, drew all present into the journey of the development and various paths of Daydawn. Most telling was his emphasis on it being a Catholic organisation and therefore the challenge to live and act by Gospel values. Advocacy was the name and Advocacy was the way of the new ministry and this came through strongly in his words. Archbishop Hickey reminded all present that in discerning the various facets of the journey, the ministry would not be caught into being bound by outside structures. However, in saying that, it came through that Daydawn was a relational ministry and that this would underpin the challenges and outcomes into the future. While taking its own stance in relation to advocacy for the Indigenous Person, the Archbishop pointed out the cooperation between the ministry and government and other not–for–profit agencies.
A listener may have wondered "what did all this interesting history have to do with saying "goodbye" to Sr. Dolores?" As the Archbishop spoke it was quite obvious that the development and life of Daydawn was held true to its aims and mission through the person and skills of Sr. Dolores. Through the various volunteer Advocates, this prophetic ministry quietly stood with the poor and people living on the edge. Advocates have used their professional skills, their sense of the pastoral to keep alive the vision of Daydawn.
An aspect that has been precious to Sr. Dolores has been the assistance she has received from Sisters of Mercy as well as the support of religious women from other Orders – Presentation, Loreto and St John of God Sisters, all of whom were present to say "Thank You". Three Sisters of Mercy who have been a support and appreciated the ministry to which Sr. Dolores was called, said they felt proud and humbled that the Order could second her to this ministry.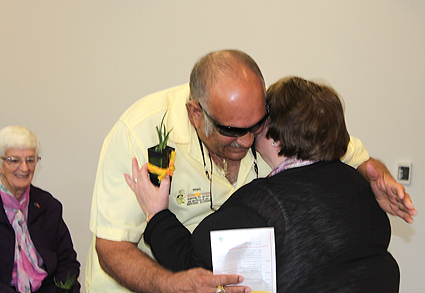 Sr. Kerry Willison rsm was instrumental in setting up the venue and sacred space that emphasised the love and passion that Dolores has for the Australian Culture, its Peoples and its Land. Standing in front of this sacred space Dolores spoke her own 'thank you' to each person present as they came forward and received from her a gift of a red kangaroo paw that was starting its own new growth. Not given to public speech making, Dolores spoke with gratitude to each person present who had, in a variety of ways, walked the journey with her over the seven years.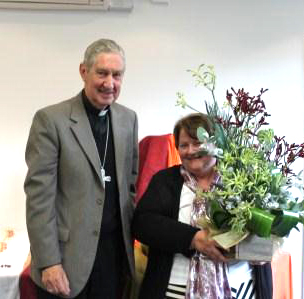 A very special point in the ceremony was the Lord's Prayer – Ngaala Maaman Waangk – spoken in the Noongar Language; while Chris Waddell led us in the singing of "I have Loved You".
Sr. Dolores spoke with fondness of this area of Victoria Square in Perth. The Convent of Mercy at Victoria Square was her first home in Australia. It was there she received the Habit and Professed her Vows and now she stood in this holy Victoria Square precinct as she began another journey, this time of "retirement". The Scripture reflection read by Cathy Broderick emphasised the theme of the afternoon YOU ARE PRECIOUS IN MY SIGHT, AND HONOURED, AND I LOVE YOU. (Isaiah)
Following this meaningful and affirming time together Dolores was presented with a Western Australian dried flower arrangement by advocates and supporters of Daydawn. The sharing over a 'cuppa that followed included many tales of this this first era of Daydawn.

Messages to Dolores Coffey rsm