Archived News Item
Celebration of 60 years at Seville
June 28, 2019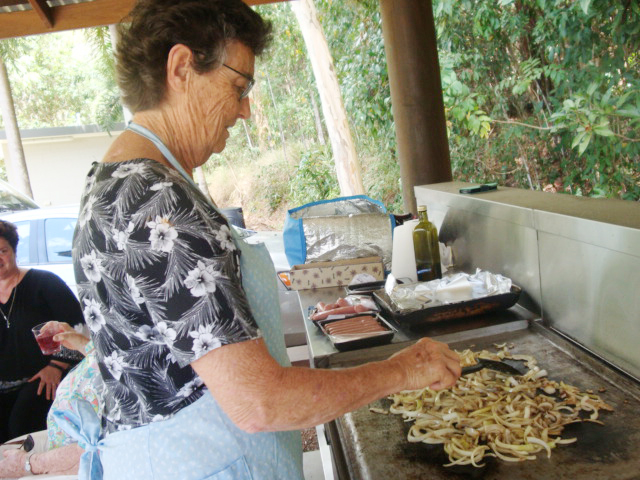 There are so many people from time to time asking, "What and where is Seville Cairns?"  On May 30, sisters, associates, friends and staff of the Seville Mercy Conference Centre at Earlville in Cairns came together for a prayer and morning tea in thanksgiving for 60 years of ministry at this beautiful place.
The 13 acre property at Earlville, on which the buildings stand, was willed to the sisters by Patrick Doyle, known as PJ Doyle, who was the Wine and Spirit Merchant based in Cairns. His company was situated opposite the now Trinity Wharf and the building still stands today. He also owned a hotel opposite the Railway Station which is now the Myer Centre incorporating the Railway Station. The property was signed over to the Sisters of Mercy on 22nd May 1959. One of the requirements of the handing over was that the sisters keep the name Seville, which was the name of the original family home.
Sisters Mary Oliver RSM and Kathleen Prendergast RSM, the Superiors at the time, accepted the property and set about making it liveable. It was decided to establish a novitiate there and move the Novices from Herberton. Elva Russell RSM was the novice mistress and when the novices arrived it was clear they would be doing a huge amount of physical work to set up and maintain the former home and now the Novitiate.
Mr Harry Randle the father of Sister Christina spent most of his waking hours, as well as continuing his normal work, clearing the grounds. It was a mammoth task as those living in the North know how huge the trees are and tall the grass grows.
Sister Kathleen engaged Lance Davies, a Cairns builder, to add a red brick building on the side of the Seville house. This became a Convent for the Sisters who were teaching and administering 'Our Lady Help of Christians Primary School', a Diocesan School, situated on Balaclava Road.
In the 1970's the use of the building changed from a novitiate to a retreat centre. It gradually became a venue for conferences for various organizations and by the 1980s it was clear that extensions were needed. Margaret Rush RSM,  the Superior at the time, commissioned John Evans a Cairns architect to design the additional buildings to suit the size of the property and place them either side of the original home of PJ Doyle. A lift has since been added and this has been a convenient addition to the structure.
Those living on the premises had to live in partnership with the rainforest animals coming to visit and many a story is relayed about encounters with them.
In the 1980's and 1990's, Carmel Doran RSM was the Manager of Seville Conference Centre and had wonderful skills in hospitality. This hospitality is now continuing with the present Manager, Rod Cole-Clarke and his enthusiastic team. Congratulations Rod and his team for their dedication to the Mercy ministry of Seville Mercy Centre.
Messages to:  Seville Conference Centre
CLICK HERE TO RETURN TO JUST MERCY