Archived News Item
Celebrating twenty years of social justice
May 24, 2007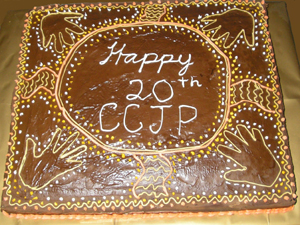 Over 150 people gathered in Sydney on May 17 to celebrate the twentieth anniversary of the social justice collective, Catholics in Coalition for Justice and Peace(CCJP). Sister Marie Butcher, a member of CCJP and Parramatta's Local Communications Facilitator, reports on the event.
On May 17, at Bankstown Trotting Club, 150 people came together to celebrate twenty years of work by members of Catholics in Coalition for Justice and Peace (CCJP).
All present had been and are involved in working in different ways for social justice. They represented people from various backgrounds including many religious from various congregations: Presentations, Dominican, Loreto and Mercy Sisters, Christian Brothers and a Columban Priest.
In an ideal setting, we sat and dined while we listened and reflected on CCJP's story through a visual presentation. Phillip Adams, in his usual way, was stimulating and humorous as he recalled his story and how he had been "˜captured by the social justice movement'. He was very much aware that as you walk along this path there is the presence of the Catholic Church in its members who follow its social teachings and particularly a group, the "˜lapsed Catholics,' who play an important role in social justice.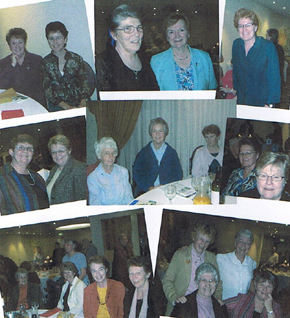 He recalled that when the war in Iraq was the prominent topic of conversation and when the "˜Governments of the willing' (USA, England and Australia) were eager to attack, there was a woman from each Government who spoke out against it. What did these women have in common? They were lapsed Catholics. He stated that it was important that we did not forget this group.
The CCJP Award for 2007 was presented by the facilitator of CCJP, Margaret Hinchey RSM, to Dermot Dorgan, a well known song writer and musician, who through his music challenges the issues facing society. A number of his songs were written over the years for the seminars held by CCJP. We all joined in as he led us through some of these songs.
Sisters of Mercy present on the evening came from a variety of congregations: Adelaide, North Sydney, Parramatta and Wilcannia-Forbes.
From: Sister Marie Butcher RSM
Email: mbutcher@mercy.org.au