Archived News Item
Celebrating the Season of Creation at the Mercy Hub
October 31, 2019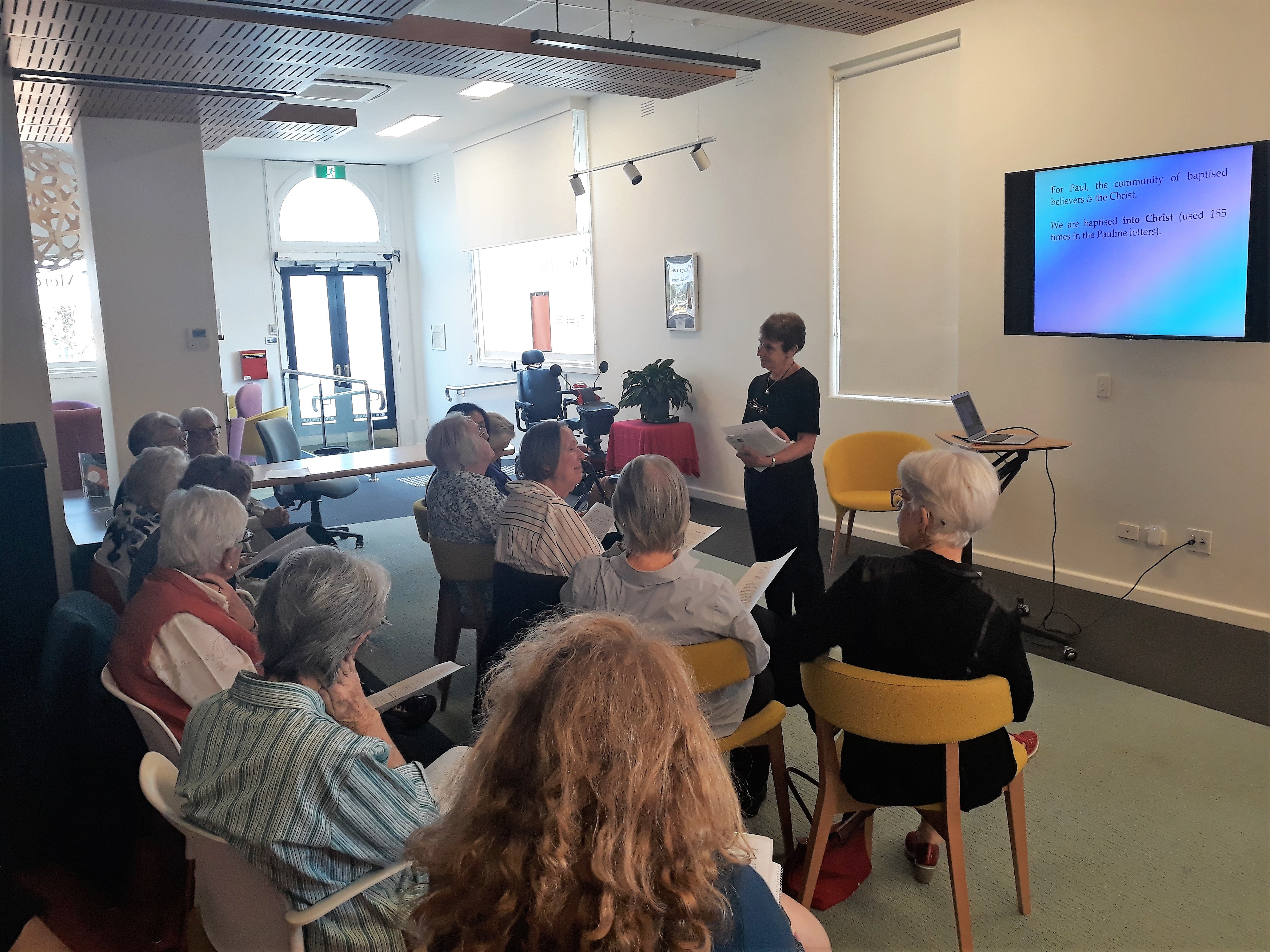 In their letter for this year's Season of Creation, Christian faith leaders write that 'we are part of a single, wondrously complex web of life that is woven by God. … During the Season of Creation, we unite as one family in Christ, celebrating the bonds we share with each other and with "every living creature on earth" (Genesis 9:10)'.  In this spirit of unity with all creation, every Wednesday during September sisters and staff came together at the Mercy Hub in Melbourne for a series of reflective gatherings led by Anne Pate, Mercy Hub Program & Activities Facilitator.  The conclusion of the worldwide Season of Creation was celebrated at the Mercy Hub on Wednesday October 2nd, when guest speaker Veronica Lawson rsm challenged those present to reflect on how we are called to respond to the cry of earth throughout the year.
In a movement from appreciation, through lament, and towards response, each weekly gathering during September focused on a particular aspect of the web of life: oceans, flora and fauna, storms and the cosmos.  Drawing on scripture, poetry, artwork, and video, Anne invited participants to recognise their interconnectedness in the web of life, to mourn the loss of species and the damage for which we are all responsible, and to commit to creating hope for a sustainable future.  Examples from the Australian context, such as the threat of extinction facing koalas in New South Wales, helped to 'open our eyes', 'enlighten our minds' and 'inspire us to conserve the precious habitats that nurture this web of life' (Global Catholic Climate Movement prayer for Season of Creation 2019).  Sisters and staff shared honestly and with great respect for one another, in a journey which encouraged each person to embrace the call to work for justice, love and peace.
On Wednesday 2nd October, a group of 16 sisters and staff were privileged to hear from guest speaker Veronica Lawson rsm of Community South B, who posed the evocative question: what does it mean to be living 'in Christ' on an endangered planet within an expanding, evolving universe?  Drawing on her deep learning and wisdom as a biblical scholar, and illustrating her talk with lively stories, Veronica explored Paul's understanding of 'in Christ' as referring to the community of the baptised.  For Paul, the risen Christ lives in the community … 'for all of you are one in Christ Jesus' (Gal 3:28).  Veronica also highlighted the movement that is continually unfolding within creation. Today's new consciousness takes us beyond Paul, to an awareness of the interconnectedness of all creation, and a vision of Christ in all.  Even Pope Francis is now saying more than he said four years ago in Laudato Si' – a gift to the world requiring both affirmation and critique.  Veronica concluded with an invitation to reflect on what might it mean for us, members of Christ, to clothe ourselves 'with compassion, kindness, humility, meekness and patience' (Colossians 3:12) for our endangered planetary home.  Moreover, what impels us as we move beyond the Season of Creation?
The sisters and staff who participated in the Season of Creation 2019 at the Mercy Hub greatly appreciated the opportunities to reflect, to learn and to be challenged.  The words of the GCCM prayer for the closing of this year's Season of Creation seem particularly apt in this moment:
We give thanks for the witness of Pope Francis and the loving presence of our Creator.
We ask forgiveness for all the times we have not acted as brothers and sisters with creation.
We ask that the Creator unite us now and throughout the year to live our vocation to care for our common home.
Messages to: Anne Pate