Archived News Item
Celebrating the jubilees of ten sisters amounting to 530 years of service in the Townsville Diocese
November 10, 2008
On Saturday September 20, St Joseph's Church the Strand was packed with Townsville Sisters of Mercy and many relatives, friends and past pupils praying and singing joyfully to celebrate the jubilees of ten sisters amounting to 530 years of service in the Townsville Diocese.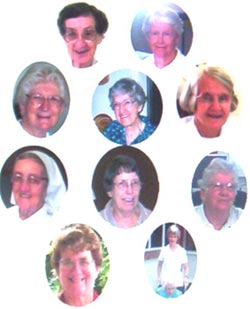 The picture: Top Row: Zita Doolan; Paul Mary Hindom; 2nd: Marie Therese Langan; Pius Carroll; Ellen Horgan 3rd: Regina O'Riordan; Philomena Lowth; Josephine Martyn; 4th Nina Barra; Juliana Cummins.
The sisters celebrating jubilees were: Mary Pius Carroll 70 years (platinum), and Zita Doolan 60 years (diamond).
The following eight were the golden jubilarians (50 years): Philomena Lowth, Marie Therese Langan, Regina O'Riordan, Ellen Horgan, Josephine Martyn, Paul Mary Hindom, Juliana Cummins and Nina Barra.
Our jubilarians, though their professions dates occurred at various times during the year, chose to have a combined celebration with Mass in St Joseph's Church followed by a luncheon at the Mercure Inn.
Bishop Michael Putney was the main celebrant accompanied by a number of priests of the diocese. Bishop Michael in his homily congratulated the sisters for their loving service to the diocese remarking that this was a tremendous occasion where so many sisters celebrated at the one time. He had been a pupil of the sisters in his primary years at St Joseph's.
Relatives, friends, past pupils and people who had worked with the jubilarians came from places within and outside the diocese with Sister Ellen's niece arriving from Ireland especially for the occasion.
After the Mass all travelled to the Mercure Inn where a large Marquee had been erected. This enabled people to move around freely in a wonderful atmosphere of great joy. Many people were moved by the celebration and spoke of it as an inspiring occasion.
We pray that God will continue to bless our sisters and make them instruments of his glory!
From: Sister Margery Daly RSM (Local Communications Facilitator, Townsville)