Archived News Item
Celebrating Sister Mary Senan's 100th birthday
March 13, 2007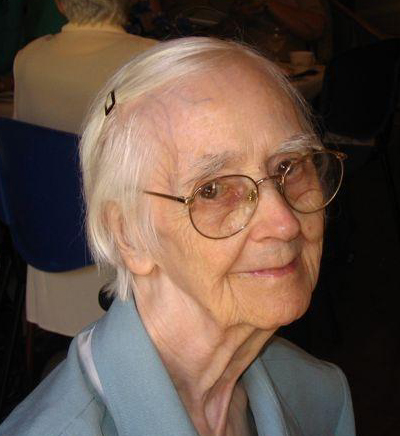 On Friday March 2, 2007, the Brisbane Congregation celebrated Sister Mary Senan Conroy's 100th birthday at Emmaus Nursing home with Mass followed by morning tea. Among those celebrating with her were three of her past pupils whom she had enrolled and taught in Grade One in the early 1940s.
Sister Mary Senan was one of 49 Irish women, including her own sister, Elizabeth (Sister Mary Lorenzo), who came to Australia in 1924 to join the Brisbane Congregation. Only three of these sisters are still alive: Sister Mary Brenda Browne, 102 in May, and Sister Mary Eunan Hickey, who will celebrate her 100th birthday in April.
Sister Mary Senan taught in a number of our schools from St Stephen's Cathedral School in Brisbane to Cunnamulla in the far west. In 1962 she returned to her homeland, Ireland, for the first time when she was asked to be superior of our house at Timoleague in County Cork. In Timoleague she was responsible for caring for the girls in the house who were discerning their vocation to religious life in Australia, supervising the running of the farm which supported the household as well as travelling the country questing for vocations.
Upon her return to Australia at the end of 1971, Sister Mary Senan resumed her teaching career. In 1978 she retired from teaching and devoted her time to being a homemaker and visitation until she moved to Emmaus, our nursing home at Nudgee in 1987. Until today she is still ministering to the people around her.
Sister Mary Senan has always been a lady and her loving nature has endeared her to all around her. The younger sisters in her care always felt that they had an understanding confidante in her.
Messages to: Elizabeth O'Keeffe RSM (Local Communications Facilitator, Brisbane Congregation)