Archived News Item
CELEBRATING SENIORS
October 19, 2015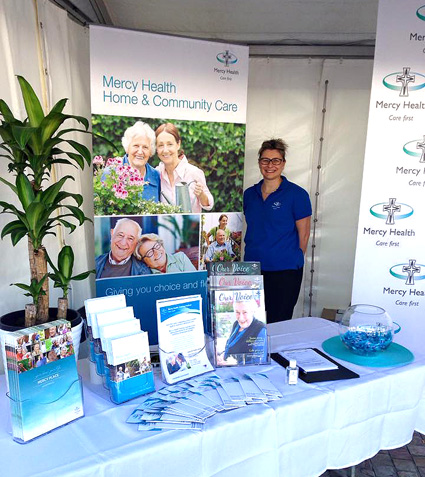 Mercy Health Residential Aged Care and Home & Community Care is proud to be sponsoring the Victorian Seniors Festival 2015 which recognises the important role older Australians play in our society. The 33rd Victorian Seniors Festival includes more than 1500 free and low-cost activities throughout October, from dancing to book readings and friendly sporting tournaments.
Mercy Health's 12 Victorian residential aged care homes will be celebrating the festival with a range of activities for residents, families and the wider community to enjoy. Mercy Health Aged Care Operations Director Voula Yankoulas said they empower residents to actively participate in life and encourage regular social opportunities. "Throughout October our homes will be hosting a variety of celebrations to recognise the wonderful contribution our residents make to the community," Ms Yankoulas said. "Planned Seniors Festival activities at Mercy Place homes include a ballroom dancing demonstration, a circus dogs performance, an arts and craft expo, a garden party and musical performances, just to name a few." "We aim to ensure our residents, no matter what their interests, always have something to look forward to and have the best day possible, each and every day," Ms Yankoulas said. Mercy Health is a leading national provider of aged care services, with 22 residential aged care homes across Victoria, New South Wales, Queensland and Western Australia.
Mercy Health had a promotional stand at the Celebration Day on Sunday 4 October and at the Festival Hub at Melbourne Town Hall between Monday 5 to Wednesday 7 October. Information was provided about Mercy place homes, independent living units, home and community care services.
Some of the upcoming Mercy Health individual events include:
Mercy Place Shepparton residents will be cooking a delicious afternoon tea on Monday 12 October, 1.30 pm.
Mercy Place Rice Village will enjoy a circus dogs performance and an afternoon tea on Friday October 16 between 2:00pm – 4:00pm.
Mercy Place Montrose will celebrate residents and the wonderful contributions they make to the community with a ballroom demonstration on Friday 16 October, 1.30-2.30pm.
Mercy Place Colac is celebrating the festival with the following events:
o Jean Howard's Poetry Book launch and afternoon tea, Wednesday 14 October, 1.30pm.
o There will also be a visit by Neal Drinnan from Cow Lick Local Book Store and afternoon tea.
Grandparents Day – Sunday 25 October, 12pm Celebrate Grandparents Day at Mercy Place Colac. Celebrations will kick off with a family barbecue at 12pm. There will also be recognition of residents' contributions to Mercy Health and the community, face painting for the children and musical entertainment to finish the afternoon.
The Victorian Senior's Festival runs until October 31st, 2015. To find out about events taking place click here .
Story and photos courtesy of Kasey McCullock, Media Office at Mercy Health.
Messages to Mercy Health